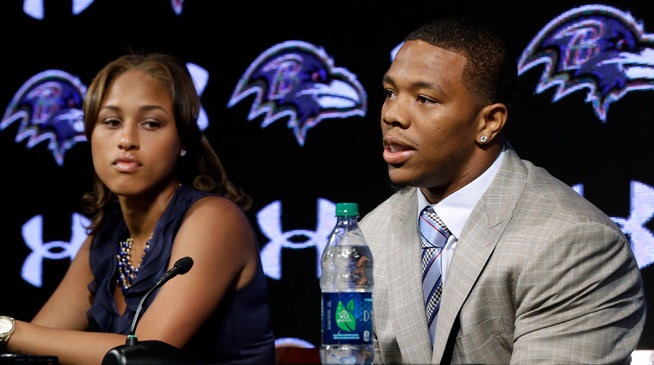 NFL In Question Over Ray Rice Elevator Punch Video!!!
The N.F.L. Commissioner Roger Goodell's decision to suspend the Baltimore Ravens running back is now in question after a graphic video has surfaced of Ray Rice punching his former fiancée.
In the shocking video you see Ray and his former fiancée getting in the elevator arguing and then Ray getting in her face and unlike the Solange video where Jay Z kept his hand to himself, Ray unleashed his fist to her face and knocked her out.
CelebNMusic247.com got the video footage via TMZ, who published the video Monday showing Rice and his fiancée in an elevator, where Rice punched her. He then dragged her unconscious body from the elevator.
The previously published video was from taken from a camera outside the elevator at a hotel in Atlantic City in February. However, Rice was charged with felony assault in March, but after Janay Palmer, who has since married Rice, declined to testify against her husband, so the charges were reduced to court-supervised counseling.
After the incident, the Ravens said on Twitter:
"@Ravens: Janay Rice says she deeply regrets the role that she played the night of the incident."
Here is what else we have learned via TheNewYorkTimes who reports this on the issue of domestic violence in the NFL.
Later Ray Rice and his wife apologized publicly. As for Roger Goodell's decision, he says that Rice was suspended for two games because of his contrition and because the charges against him were dropped.

Shortly after the decision it was immediately and loudly criticized by women's advocates and even N.F.L. players who said the league was not treating the issue of domestic violence seriously enough. The N.F.L. received hundreds of phone calls in protest, and petitions with tens of thousands of signatures were collected.

The more explicit video, though, raises questions about what information Goodell reviewed before deciding to suspend Rice. The league has said the commissioner took his cue in part from law enforcement officials who had access to more information than the league, including perhaps the new video.

The N.F.L. has its own security personnel who compile their own reports. Goodell based a lot of his decision on his interview with Rice and Palmer, and their reaction in the wake of the scandal.

"I think what's important here is that Ray has taken responsibility for this," Goodell said to reporters in Canton, Ohio, at the Pro Football Hall of Fame, at the beginning of April. "He's been accountable for his actions. He recognizes he made a horrible mistake, that it is unacceptable, by his standards and by our standards."
Watch:
The video has created a firestorm of responses in regards to Ray Rice punching his former fiance in the elevator, which asks the question why did the NFL just slap Rice's wrist for such a violent attack on his wife?
The punishment for Chris Brown was a little more harsh for punching Rihanna, but for some reason celebrities, rappers and NFL players get a green light to pass jail time for attacks like Ray Rice and its uncalled for. Any normal person would get locked behind bars. NFL players need to lose their funding, endorsements and the position on the field for 1 – 2 years to give them a real taste of prison if they're not going to get locked up.
Here is what Twitter is saying on the matter:
"The NFL has to be careful. If they apply too many penalties for aggressive behavior off the field, it will be likely that more African Americans will be punished than whites. Goodell has to try to balance a very delicate "national conversation" about race in America today."
Another follower writes:
"Race should not be a factor in setting policy concerning domestic abuse or any other type of unacceptable off-the-field conduct. Penalties should be consistently applied regardless of the offender's race, age, contribution to the team, amount of money donated to charities and other public good works, or public popularity."
The response continued with this post:
"Brutal. If found it especially touching that Ray spit on Janay prior to getting into the elevator. The NFL should be embarrassed and Ray Rice should be sitting out the season at a MINIMUM. How could the NFL have reviewed that evidence and come to its conclusion on Ray Rice? What a farce. Also, how about the Ravens stepping up? What a travesty."
while another man weighed in saying:
"This act of violence mirrors the NFL. This guy Rice should be prosecuted. His wife is too frightened to testify."
Related articles