BottleRock Napa Culinary: Marcus Samuelsson + Andrew Zimmern + Roy Choi!
The Culinary Stage was on fire in 2021 with Guy Fieri and BottleRock Napa continues to amaze with another round of greatness.
This year the BottleRock Napa Culinary is going to be lit with heavy hitters like the illustrious Marcus Samuelsson, Magnolia Network's Andrew Zimmern, Gail Simmons, BBQ master Roy Choi, Aarón Sánchez, Michael Mina and more to appear alongside musical headliners and celebrities…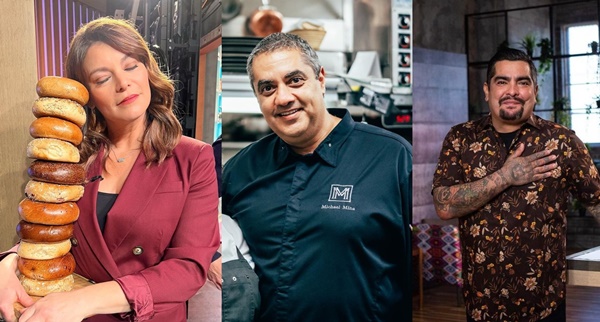 CelebnMusic247.com is proud to announce the BottleRock Napa Culinary stage is going to be heating up the kitchen with some of the top talents in the culinary world.
Situated in the heart of America's wine and food playground, BottleRock Napa Valley, presented by JaM Cellars, has announced that some of the world's most celebrated culinary talent, including Marcus Samuelsson, Andrew Zimmern, Gail Simmons, Roy Choi, Aarón Sánchez and Michael Mina will join musical headliners P!nk, Twenty One Pilots, Luke Combs, E-40 & Too $hort (of Mount Westmore) and dozens more on the crowd-pleasing Williams Sonoma Culinary Stage, leading a star-studded lineup that will deliver memorable mash-up moments during the three-day festival, May 27 – 29, 2022, in historic downtown Napa.
Additional 2022 culinary stars appearing on the stage include Michael and Bryan Voltaggio, Todd English, Matt Horn, Aaron May, Tiffani Thiessen, Amirah Kassem, Adam Sobel and Belle English, perfectly paired with musicians and celebrities including, Rickey Henderson, George Kittle, SAINt JHN, Charles Woodson, Warren G, Michael Franti, Silversun Pickups, Iration, Hunter Pence, MisterWives, Drew Holcomb, Bella Twins, Ali Larter, Royal & The Serpent, Gary "Baba Booey" Dell'Abate, Aly & AJ, Dominic "The Shoe Surgeon" Ciambrone, Blu DeTiger, Jonathan Sadowski, George Kontos, Foy Vance, and DJ Dylan. Also appearing is former KTVU Sports Anchor Mark Ibanez and the Culinary Stage emcee is Emmy Award winning TV personality and KCBS "Foodie Chap" Liam Mayclem.
Dave Graham, Partner, BottleRock Napa Valley:
The 2022 Williams Sonoma Stage lineup is a blockbuster, filled with great pairings between culinary stars, our musical headliners and some great personalities and celebrities. We're looking forward to some memorable culinary stage moments for festival fans.
Single-Day Friday and Saturday general admission tickets to the 2022 festival are available at www.bottlerocknapavalley.com. Fans are strongly encouraged to purchase their Friday and Saturday single-day general admission tickets before they sell out. For other sold out tickets, visit BottleRock's official ticket exchange, Lyte.