BottleRock Culinary Stage: Warren G, Maren Morris, G-Eazy, + Ayesha Curry!
This year The BottleRock Culinary Stage was filled with artists and some celebrity chefs like Guy Fieri who appeared with a group of first responders ROCKED on Saturday.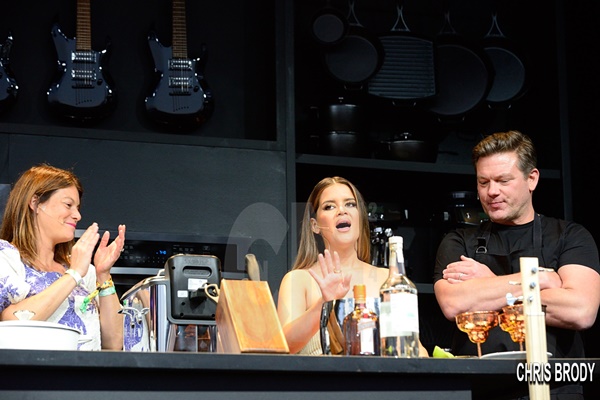 On Friday the BottleRock music festival's Culinary Stage at the Napa Valley Expo featured Ayesha Curry and headliner G-Eazy at the 4:30 to 5:30 hours, reports CelebnMusic247.
Later that evening, Gaile Simmons, Tyler Florence, and Maren Morris lit up the BottleRock Culinary Stage.
On Saturday, matt Horn and Warren G got to do their thing on the Culinary Stage.
BottleRock has become one of the best music festivals in the country ranking in the top 10 must-go-to festivals.
When you are at BottleRock, it is a unique experience like no other music festival. Kaboo tried to jack some of the cuisine and culinary aspects of BottleRock but they failed to compare.
BottleRock is one of a kind when heading out to music festivals. It gives you an eclectic array of music from Rock, pop, bounce, EDM, hip hop and country. When it comes to culinary cuisine there is no festival that can compare, so remember to bring the paper.
We experience a delicious Pulled Lamb Curry BBQ sandwich. A Sushi Burrito made with spicy Tuna that was out of this world. The Aligator Sausage on a stick was to die for. The $60.00 bucket of chicken was some of the best chicken ever.
In addition the Jumbalayia with muscles, shrimp, and octopus. The lamb gyros, and lastly the Korean pulled pork cheesy nachos. There was so much food to experience, we couldn't eat it all.
There was a $45.00 filet mignon sandwich, so you can understand why we said to be ready to spend some coin. This year everything was CC or debit due to COVID restrictions.
Photos Courtesy of CelebnMusic247/Chris Brody