Tekashi 6ix9ine Shot Dead?
The way Tekashi 6ix9ine has come back on the scene unapologetic – it may just be a matter of time before this headline actually happens. Even the mother of his child beleives that Tekashi 6ix9ine is marked man.
This week, 6ix9ine dropped his first track since being locked up following the events that got members of the Nine Trey Gang sentenced to years behind bars. Continue on to see why this headline might be plausible…
CelebNMusic247.com reported earlier this week that Tekashi 6ix9ine ripped into Meek Mill after the Maybach Music rapper FIRED SHOTS at him on social media.
Tekashi 6ix9ine took to Live boasting about his new song "Gooba" while dissing Meek Mill for calling him a "Rat" for flipping on Nine Trey Gangsta Bloods.
69 said during the Live session:
To try to s— on a kid like me, to be like yo, f— that, he's a rat … to be like yo, he ratted, to then a rat like me come home and still do more numbers than you? I would be mad too…If a rat came home and did more numbers than me, I would be mad too.
He went on to say why he was an informant for the Feds why he "snitched."
Tekashi added:
I wanna say that I'm sorry to my fans because you know what? It wasn't worth it. It wasn't…don't want to understand – He added the reasons why he "snitched."
69 is making sure to RUB his comeback success in everyone's face who doubted him:
Tekashi even made it a point to address his haters for now:
The problem with Tekashi 6ix9ine saying that:
69 didn't learn a damn thing about being humble? He went right back to doing music the same way he making music before he was put behind bars.
Tekashi doesn't give two F's about anyone or anything. He has been thirsting for attention and acting like a media whore.
Bottom line, it's clear that 6ix9ine has learned nothing. He has no loyalty to his peers, and no self regard on how to comeback on the scene. People are NOT cool with the way he is boasting about his video dropping. And we told you before its about the hot chicks in the video. His new song "Gooba" was marketed for men to gawk at the phat booty's, no one is paying attention to 69.
The 24-year-old rapper no longer has the support of Nine Trey Gang since he betrayed their trust. In his recent video he claims to be the victim and that is why he flipped on Mel Murda, Kifano "Shotti" Jordan, Roland "Ro Murda" Martin and a couple more Nine Trey members. 69's testimony decided the fate of Anthony "Harv" Ellison and Aljermiah "Nuke" Mack .
She said on social media:
People smart enough can see I'm not the reason he snitched, take me out of this…. he still would've snitched, boy not built like that. Sad, imma pray for him he's a marked man and is empty. God bless everyone. I leave it to god and let him handle it.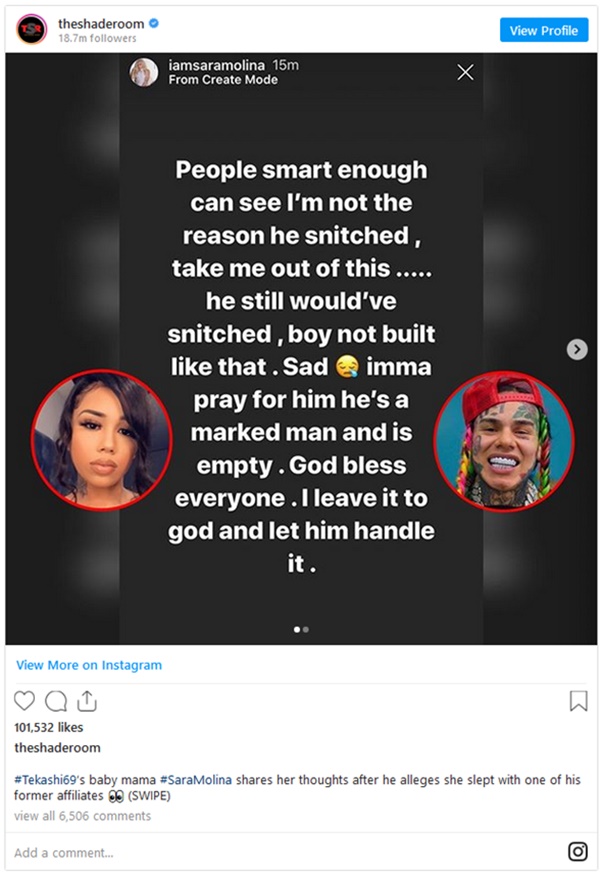 Another thing to point out is the simple fact is that 69 is in hiding.
He knows that he is a marked man, especially since a neighbor snapped photos of him on the roof of the place where he was staying.
View this post on Instagram
Now, Tekashi is on the run again to his next hidden location after his address got leaked. Tekashi 6ix9ine isn't in the witness protection program while he is on house arrest. The FEDS are aware of the move.
Tekashi's got a HUGE problem. Someone across the way took a pic of the rapper on the balcony and not only posted it, but posted the address as well. It's apparent the neighbor knew Tekashi was staying there, reports TMZ.
6ix9ine just sent me this video .. he said he's fine he's on his way to relocate to his next hideout. ? y'all want him to go back on ig live tonight or y'all good? pic.twitter.com/mQCvMExdZO

— DJ Akademiks (@Akademiks) May 10, 2020
The crazy thing about all of this is 6ix9ine is acting untouchable, and the problem with that is everyone is touchable.
Now we are hearing via reports that Jay Z may now be affiliated with the snitch rapper. Rumors are swirling that Roc Nation has signed 6ix9ine.
Is the label building him up to be the next Juice Wrld by having him make a bunch of music before his days are over?