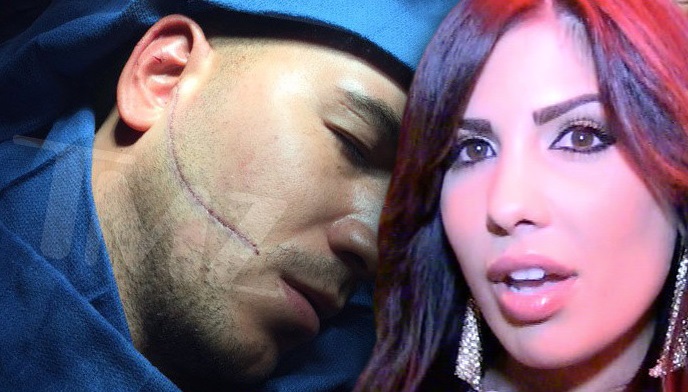 Natalie Guercio Suing Night Club For Letting Attacker Go!?!
Mob Wives star Natalie Guercio Suing Night Club For Letting Attacker Go after her boyfriend London Rene was given a Glasgow smile!
We previously reported on Natalie's Boyfriend London Rene's face getting sliced & then being hospitalized, but now CelebNMusic247.com has learned that "Mob Wives" star Natalie Guercio wants to sue! She doesn't know how a guy with a boxcutter could slash him in a crowded nightclub, and then walk away clean. Guercio wants answers and now she is readying to sue to get them.
[rpi]
Here is what is being reported via TMZ:
London Rene tells TMZ he's already talked to his lawyer about taking Output Nightclub to court — because he has two big problems with the Brooklyn hot spot's security team.

His first issue — how alleged attacker, Rudy Lopez, got into Output armed with a weapon like a boxcutter. London says his attorney's requested security cam footage for a closer look at what happened when Lopez entered — but he claims the club doesn't typically frisk guests.

Secondly, Rene says he subdued Lopez after the stabbing, took him to club security guards and asked them to hold him until police arrived. He claims security simply let him go.

We contacted Output … so far, no word back.
Side Note: If Natlie is acting up like she does on Mob Wives then we can understand why something like this could happen.  Drita and Big Ang said her mouth is a loose cannon and may get her into trouble one day and it seems London is paying the price with a  Glasgow smile for the new year, via his attacker. See cuts like that are permanent and scar, so London will never forget the attack. We hope he can get some plastic surgery to clear it up, but there is no word since the wound is still so fresh.
We feel for London and hope he gets well and recovers quickly. We are sorry to hear about the incident and hope that Natalie will cool down her temper and mouth.
Here are the photos from the incident via Instagram/TMZ: