Martin Johnson formerly of Boys Like Girls is back with his new project The Night Game. Johnson and his band gave a stellar performance at Bottlerock 2018 and yes, shines brightly.
Gigi of CelebNMusic247.com had a moment to sit with Martin Johnson to talk about his new solo project, The Night Game, writing music and rediscovering his path to feeling fulfilled in life.
Read the Interview to hear how Martin Johnson has been finding himself through his music…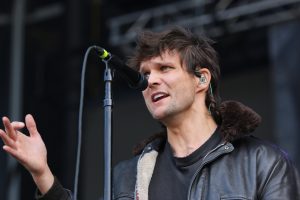 Martin Johnson sat down following his memorable performance at BottleRock 2018 with Gigi to have a one on one with her.
The two shared a moment when talking when Gigi asked: What was the real reason you got back and did The Night Game?
Martin Johnson frontman of his new solo project The Night Game explains:
Yeah, I mean I miss singing and I miss playing. I've been quoted as saying this before, but there was a moment, where I was like, where did the kid go? I remember the kid and you are like 7 years old and you get your first guitar, you stare at yourself in the mirror and you are doing rock and roll stands. I was like where did the kid go?
The talented performer went n to say this about his method telling stories through music:
I'm like in this 12 x 12, nine to five you know like hooking out stuff like I don't really believe. You know maybe I believe some of it. When did I stop telling stories? I started writing stories when I was really young, six or seven years old. I was telling stories as I wanted to tell stories of how I felt. Somewhere that went into I need to pay that car payment. I felt like maybe I am going to quit music or open a jelly store and sell things? Maybe I will figure it out and find out I still love it.
The "Bad Girls Don't Cry" songwriter and singer explained his frustrations and how he found his path back to music lyrically:
I just shut it down, it took a minute…It took like 15 songs I'd throw on the keyboard at the wall and breaking mouse's. I found it again. I wrote this album that will probably not come out. Probably twelve songs of depressing bullshit. You know, just sad.
Gigi asked him how did he find his groove again and was a good release?
Martin went on to reveal:
Yeah, and then it got to where I was okay, I'm feeling this again, I'm back in the groove. Alright, I can do this you know what I mean. You know they line you up, the corporate kind of music and co-writing wheel. You go in you get your schedule built. You are like what are you doing today, and you lose it a little bit. So, what do I have to do to stop speed dating and get back to like the kid? I'm happy to be back playing again and singing again.
Gigi told Martin she could tell he looked happy on stage.
Johnson expressed by saying:
 Cool, good.  I'm having a lap and strutting around.  It's nice.
I really love speaking with Martin. I decided to ask him about being in Vegas looking for inspiration and meeting a woman whose story he used and made it into Bad Girls Don't Cry.
CelebNMusic247.com asked Martin about how he finds a muse for inspiration, which I asked if his muse was the woman in Las Vegas?
The "Kids In Love" singer explained:
She said that, and you just get hit with the title. I look for something to fill a void rather than a muse. Sometimes I will watch a romantic movie to feel love or I will eat a bunch of sugar just to have the crash. There is a hole for sure. 
He adds how he has changed and found another path to fulfillment in his life.  He no longer turns to drink and drugs.  In speaking about the hole in his life, Martin added:
Mine is big. I used to fill it with booze and drugs, but in the last eight years or so I've been filling it with other things. For a while music stopped being my fill up completely.
As we spoke further, Martin shared how he enjoyed playing poker in Vegas. The 6'2″ Andover, MA native explained:
I think I'm always looking for a muse, I'm always looking for a higher power or God or something. Searching for sure.
From there we spoke about him being a big Patriots fan. Do sports help you fill some of the voids you were talking about?
The 32-year-old Rockstar replied:
Yeah, you grow up in the entertainment industry like you idolize musicians, right? You move to LA, meet them, maybe they are short or maybe have bad skin or are insecure. Their speaking voice is funny and like God disappears. The superhero, American football gives you something to believe in, something to root for on Sunday. I'm a fan with my popcorn. You show up at the movie theatre and I'm there.
What's next for Martin Johnson with The Night Game?
He revealed that the album comes out on September 7th.
Martin stated:
I'm really excited. It took a really long time to make.  I poked at it until the very last minute.  Working on this next record and a big headlining tour in the fall.
CelebNMusic247.com will keep you posted on the tour dates, or you can stay connected with Martin Johnson with The Night Game via social media:
Facebook | Twitter | Instagram | AXS | Soundcloud | YouTube Pre-Order His album today HERE…
Take a look at our photo gallery of Martin Johnson with The Night Game at BottleRock 2018 below:
Photo: Peter Ricci/CelebNMusic247.com