This year it was all about The California Girl, Katy Perry Roars at Half Time Show at Super Bowl NFL Super Bowl XLIX.
The battle for the super Bowl rings has been going down in Arizona tonight and going into the 4th quarter the Seattle Seahawks lead 24 -14 to the New England Patriots.
Despite the battle on the playing field was Katy Perry Roared as she entered the field standing on top of a gigantic Lion the walked the field singing "Roar".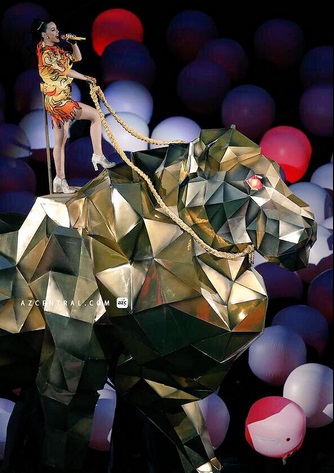 We just have one issue and that is her Blades of Glory outfit. It looks like her stylist went into the wardrobe of Will Farrell and stole his outfit.
Take a look and let us know who wore it best?
Perry continued to amaze NFL fans as she kept it going with "Dark Horse" minus Juicy J. Then turned the tables to Lenny Kravitz to charge things up and lead into "California Girl," it was visually stunning. The show was NOT over for Katy as she heated things up with Missy Elliott to spit on the mic with some classic hits like "Work It" – Perry ended her half time show with incredible height's soaring above Super Bowl fans while singing "Firework."
One of the best half time shows in a very long time.
New England Patriots Beat the Seattle Seahawks 28-24:
The New England Patriots won Super Bowl XLIX in the last 20 second of the game with a score of 28-24.