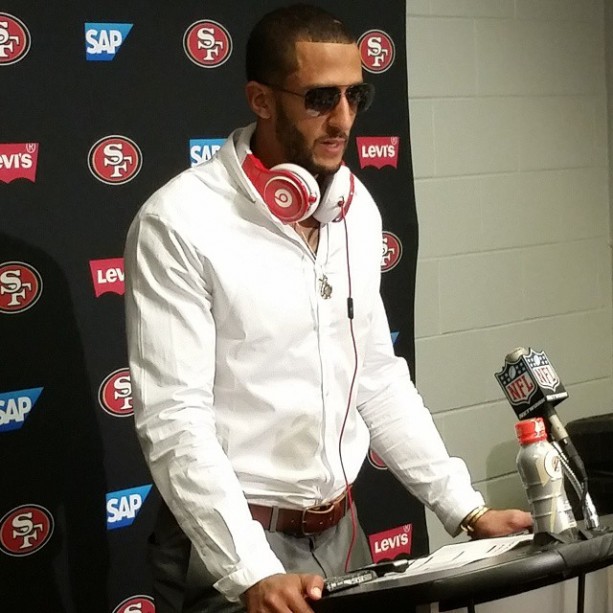 San Francisco 49ers QB Colin Kaepernick Fined For Racial Slur and Unsportsmanlike Conduct after reports are claiming that he used a racial slur during a game last week.
CelebNMusic247.com heard that Colin Kaepernick was fined $11,000 for using a racial slur during a game last week, but were NOT sure what Kaepernick could have said. Here is what our friends at 4UMF.com are reporting on the incident:
Kaepernick denied he said anything racist when he and Bears defensive end Lamarr Houston exchanged words after he gave up a fourth quarter interception in the Week 2 loss. Kaepernick, who signed a $126 million extension during the off-season, was intercepted three times.

"I didn't say anything," Kaepernick told reporters, adding he would appeal the fine. But reports say Kaepernick used the "N" word.

Houston also claims he didn't hear anything out of line, but Kaepernick was flagged by ref Laird Hayes for unsportsmanlike conduct on the play. The league did not specify what racial slur Kaepernick allegedly used.

"Colin says he didn't say anything, this person says what they say and somebody else heard something else," 49ers coach Jim Harbaugh told Fox Sports. "I don't have a stance. You can only imagine. I don't have a stance because I don't know, I didn't hear it. Colin's always been truthful 100 percent of the time."

The 49ers fell to 1-2 after a 23-14 loss to division rival Arizona Sunday.

NFL Commissioner Roger Goodell made his first appearance in public in two weeks when he was spotted at the Texans-Giants game Sunday at MetLife Stadium. He's been under siege since a slew of players – Ray Rice, Adrian Peterson, Greg Hardy and Jonathan Dwyer – were suspended for various abuse incidents.
Watch:
This is not a good start to the season for San Francisco 49ers.
What do you think?
Related articles