Chris Pratt Remembers His Father!!!
Jurrasic World and Guardians of The Galaxy star Chris Pratt Remembers His Father with a touching tribute.
CelebNMusic247.com has this report via Chris Pratt's Twitter account where he shares a heartbreaking tribute to his late father to commemorate Labor Day weekend.
The 36-year-old mega star tweeted:
"Your to do list: 1)have kids 2)play outside 3)teach them to fish 4)take pictures," "Thanks Dad. Miss you man."
Chris also included a photo of himself with his dad Dan and brother Cully on a fishing trip when he was just a kid – seen below: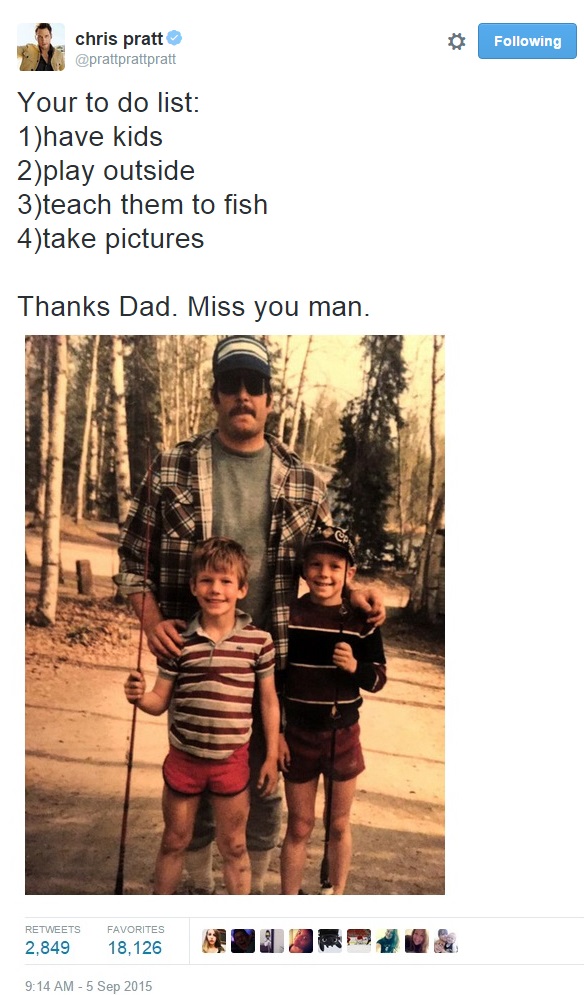 [rpi]
A couple of days earlier, Chris showed us his Daddy skills after Anna Farris shared a photo of their adorable three-year-old son Jack, that potty training was going great.
We love Chris' response. #GoDad
Take a look:

Currently, Chris Pratt is working on his upcoming Antoine Fuqua direct film, The Magnificent Seven (a remake of the 1960 Magnificent Seven film that starred Yul Brynner, Steve McQueen, Charles Bronson) the which will hit screens on September 23, 2016. The film also stars, Matt Bomer, Denzel Washington, Ethan Hawke, Vincent D'Onofrio, Peter Sarsgaard and more…
Chris recently had this to say while on set of The Magnificent Seven:
"Chilling on set with Korean superstar and all around great guy #ByungHunLee aka #BillyRocks of the #MagnificentSeven 800 horse falls!!!

That's a new movie record!!!

A horse fall is a stunt. When a stuntman falls off a horse. We've done over 800 on this movie!! So far so good. No injuries. Man or horse. This movie is going to be incredible. More to come!"
His next film, Passangers will hit theaters on December 21, 2016, which is about a spacecraft travelling to a distant colony planet and transporting thousands of people has a malfunction in one of its sleep chambers. As a result, a single passenger is awakened 60 years early. Faced with the prospect of growing old and dying alone, he eventually decides to wake up a second passenger. Passangers is directed by Morten Tyldum and also stars Jennifer Lawrence, Michael Sheen and more.
Then Chris will return to the sequel of Jurrasic World 2, which hits the big screen on June 22, 2018. Chris will be staying busy since he is also scheduled to reprise his Guardians of the Galaxy 2 which was unveiled at the San Diego Comic-Con 2014 when the director paired up with star Chris Pratt on a video presentation to announce the project's official release date: May 5, 2017.
Cute right?
What do you think?