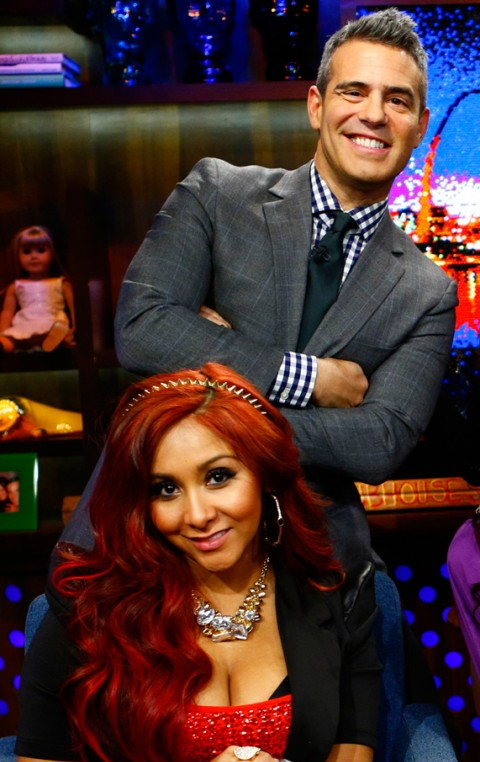 Andy Cohen Weighs In On Snooki!?!
Last week we told you that Nicole Snooki Polizzi was gunning to join Terese Giudice and the girls but now Andy Cohen Weighs In On Snooki!
Snooki is apparently trying to grow up from MTV and head over to Bravo, but The Real Housewives of New Jersey's main man, Andy Cohen may be standing in the way.
Here is what CelebNMusic247.com has learned about Andy Cohen's feeling towards Snooki joining.
See, The Real Housewives of New Jersey is one of the most successful series in Bravo's reality television show franchise. The show has gone through many cast shake-ups, with the most recent season having only Teresa Giudice as one of the original housewives, (with the exception of Dina Manzo).
[rpi]
The show added 3 housewives to make up for Dina, while she joined one of the many Housewives spin-offs, "Manzo With Children". Without Dina and now Teresa, the show is lacking, so it will be on an extended hiatus until Teresa is out, which newbie wanna-be girl, Jim Marchese is campaigning for Giudice to be FIRED.

Does he forget she helped the show keep its ratings so he could get a job on the show?

Now with the news that the former Jersey Shore Guidette, Nicole "Snooki" Polizzi, a familiar reality television show face and New Jersey native, wants to join the RHONJ. The RUMORS were neither confirmed nor denied, leaving media outlets to speculate that this was a possibility.

RHONJ fans were upset about the news so the quickly started firing tweets to Andy Cohen that he was not happy with the news about Snooki possibly joining the franchise.
Andy responded in a few words:

Snooki replied:
We will keep you posted….