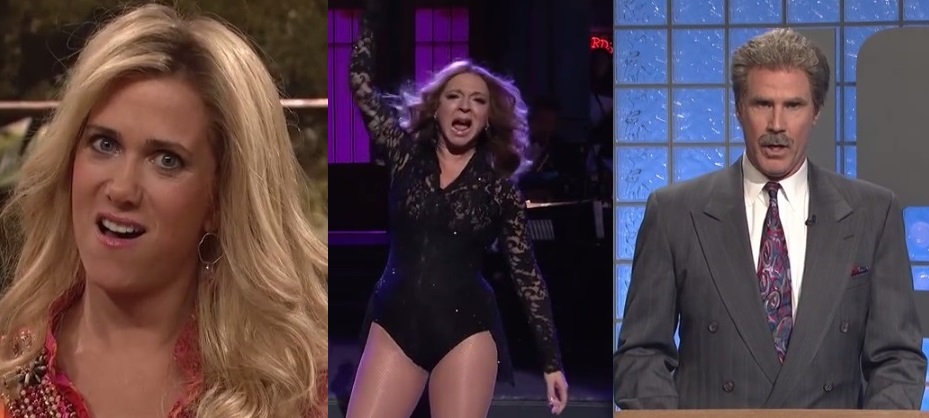 The BEST Moments of SNL 40!!!
Last night NBC aired SNL 40th Anniversary and it was NON-STOP laughter, well at least for us. We grew up on Saturday Night Live and just watching all The BEST Moments of SNL 40 was a blast.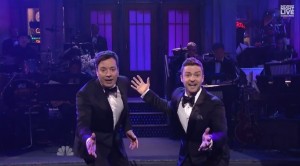 From the legendary comedian Gilda Radner and her Rosanne Rosanna Danna to the great Eddie Murphy (mind you that he only came out for 73 seconds and did nothing but say thank you – we didn't even get a joke – what happened Eddie, you were there for the fans.), who stepped onto the reunion saying that "it reminded him of a high school reunion" while being honored with a standing ovation.
Other Honorees included the "wild and Crazy Guy" Steve Martin, one half of the Blues Brothers, the great Dan Akroyd and the always funny "Fletch" Chevy Chase.
The night was stellar, the jokes on point and they even revealed the worst SNL player of all time, Robert Downey Jr. Thank goodness for Iron Man, right?
Anyways, the show cover it all and we have some of the BEST Moments of SNL 40 3.5 hour show.
[rpi]
Take a look and see if you agree:
7. Jimmy Fallon and Justin Timberlake SNL 40 musical opening:
Jimmy Fallon and Justin Timberlake's rap style melody opening that recapped 40-years of Saturday Night Live.
6. Bill Murray's Love Song to Jaws:
It was great seeing so many familiar faces from Saturday Night Live's past, but Bill Murray was one of the few who really brought something fresh to the table in the 40th anniversary special by reprising his role as Nick Ocean, singing "Love Theme from Jaws," with Paul Shaffer on piano. Pairing "You made me part of you — now Jaws, you've found someone new. Why? Jaws? Jaws, why? Wasn't I enough for you?" with feature footage of the shark destroying Quint's boat was absolutely perfect.
5.
The Californians/Buh-Bye

:
The Californians (Fred Armisen, Bill Hader, Kristen Wiig, Laraine Newman, Kenan Thompson, Betty White, Taylor Swift) reunite and get some surprising news about their pool boy Craig (Bradley Cooper). Plus, David Spade and Cecily Strong bring the sketch to an abrupt end.
Watch:
4. Tina Fey, Amy Poehler and Jane Curtin return to the Weekend Update:
Tina Fey, Amy Poehler and Jane Curtin return to the Weekend Update desk and share the latest news on SNL's viewership.

Mike & Molly star, Melissa McCarthy livened things up by literally bursting onto the scene as Chris Farley's Matt Foley. The desk crash completely sealed the deal on one of the night's best moments.
Watch:
3. Martin Short and Beyoncé (Maya Rudolph):
Martin Short and Beyoncé (Maya Rudolph) were fantastic hosting a cavalcade of musical acts in a reminisce about SNL's musical acts with help from Garth & Kat (Fred Armisen, Kristen Wiig), Marty & Bobbi Culp (Will Ferrell, Ana Gasteyer), Opera Man (Adam Sandler), King Tut (Steve Martin) and The Blues Brothers (Jim Belushi, Dan Aykroyd). Our favorite part is Rudolph's 100% on-point portrayal of Beyoncé.
Watch:
2. Will Ferrell's Celebrity Jeopardy skit:
Alex Trebek (Will Ferrell) tries his best to keep contestants Sean Connery (Darrell Hammond), Justin Bieber (Kate McKinnon), Tony Bennett (Alec Baldwin), Burt Reynolds (Norm Macdonald), Christoph Waltz (Taran Killam), Matthew McConaughey (Jim Carrey) and Bill Cosby (Kenan Thompson) in line.
Watch:
1. Wayne's World
 Wayne (Mike Myers) and Garth (Dana Carvey) as they go over the top moments of SNL moments.
Take a look:
Thoughts?
Watch More Moments at NBC for FULL episodes and highlights HERE