This is ridiculous! Hello, Swedish Prime Minister Stefan Löfven, ASAP Rocky is entitled to due process, do you NOT know that?
Today, Swedish Prime Minister Stefan Löfven just cooled off President Donald Trump's attempt to secure A$AP Rocky's release from jail. For some reason, Sweden feels that ASAP Rocky deserves to be behind bars. Read on to see why Swedish Prime Minister to Trump: ASAP Rocky Won't Get Special Treatment…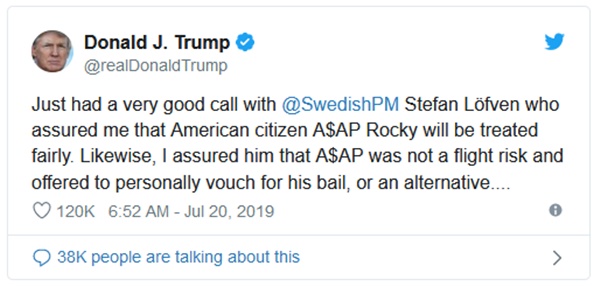 CelebNMusic247.com has learned that President Donald Trump reached out to Swedish Prime Minister Stefan Löfven and things didn't go as planned with the European country in the Netherlands.
Following his conversation with the Swedish Prime Minister, Trump tweeted that morning about his "very good call" with Löfven, adding that the prime minister said:
American citizen ASAP Rocky will be treated fairly.
The president wrote:
Likewise, I assured him that A$AP was not a flight risk and offered to personally vouch for his bail or an alternative.
Although, a statement from the prime minister's spokesperson appeared to reject Trump's effort to help the artist.
The spokesperson said:
The Prime Minister made sure to point out that the Swedish judicial system, prosecutors and courts, are completely independent. He also pointed out that everyone is equal before the law and that the government neither can nor will try to influence the judicial process.
Rakim Mayers, best known as ASAP Rocky has been detained since July 5 "on probable cause on suspicion of assault in Stockholm," according to the Swedish Prosecution Agency. His European tour as derailed following the incident when to men kept harassing the rap star.
We have also learned that the agency announced Friday that the artist would be held until July 25, calling him a flight risk, and said more time was needed for the investigation.
It is clearly seen in two videos posted by Rocky that he told the two men who threw headphones in his security guards face and followed them taunting them to fight. Rocky was seen telling them to leave them alone and saying:
We don't want to fight y'all.
Click here to see how the men were trying to taunt ASAP and his crew. We feel it was all a setup.
Meanwhile, Jada Pinkett Smith posted this video which states that ASAP Rocky is entitled to due process:
We ae sorry, but the Swedish Prime Minister has it all wrong! They arrested the wrong man!