This weekend it was the Sonoma Harvest Music Festival at B.R. Cohen Winery.
Set in the midst of the rolling mountains covered in grapevines and nestled in the valley of the moon, the Sonoma Harvest Music Festival enlightened music lovers with another day of great performances.
On Sunday, the vibe was funk, hip-hop and soul at the BR Cohn Winery in Sonoma Valley for the second of four days at the Sonoma Harvest Music Festival.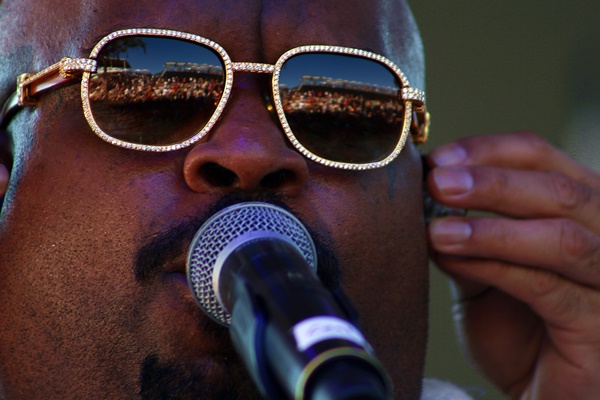 CelebNMusic247.com was there in the middle of it all to bring you highlights from the festival presented by Lattitude 38, the people behind the BottleRock Napa Music Festival.
Monophonics:
Day one was a bit hit with Ben Harper, but day two was equally amazing with outstanding performances. Monophonics who was the day opener getting the crowd going. They really set the mood with their soulful sounds, and seeing them live is an actual delight.
North Mississippi Allstars:
Following Monophonics, was the North Mississippi Allstars from Hernando, Mississippi bringing their southern rock/blues sounds to music lovers as they chilled out for a cooler day in the sun drinking great wines and beers while enjoying fine cuisine.
Karl Denson's Tiny Universe:
Karl Denson's Tiny Universe was a true gift. Karl is a superb performer bringing his funk and jazz saxophonist, flutist and vocalist from Santa Ana, California. He is actually a performer you have to see live. The group will blow you away.
Cee-Lo:
For us, it was all about Cee-Lo – he was more than a performance – it was the Cee-Lo Green experience and the crowd went wild. Cee-Lo, who got his start with Goodie Mob, written for dozens of artists and has so many countless hits, gave a mature audience a taste of funk/soul/70's bliss.
The co-creator of Gnarls Barkley had fans at the Harvest Festival dancing and singing along as he took everyone on a journey blending African Bombada, Kraft Work, the Commodores, Parlament, Hall & Oats with his hits. From songs from his Gnarls Barkley project to his solo album Cee-Lo sang songs like "Crazy," Bright Lights, Big City," and more.
Cee-Lo was a non-stop ride of musical excellence that is utterly untouchable.
Lauryn Hill:
Lastly, Lauryn Hill, she wowed fans at the Sonoma Harvest Music Festival, but we called it, she was an hour late, which some might say fashionably. Fans at the festival were not pleased with Hill taking her time to get to the stage while her DJ, DJ Reborn did a 45-minute DJ set that made us feel like we were "stuck in the club without a drink." No, discredit to Reborn, but it was too long of a set while waiting for Lauryn Hill.
After waiting until 5:40 – just 5 minutes shy of almost being 60 minutes late, Lauryn Hill graced the stage and gave an amazing performance. As always, she didn't disappoint when it comes to her music. She is a great performer, and an excellent singer, who has flawless vocal skills and yes, a true fashionista.
What we didn't like were the many white music fans who did nothing but complain about Hill, and Cee-Lo. It was just a little disappointing hearing the nasty things being yelled out and said about two great artists who have more talent in their pinky than most of the festival-goers who attended. Other than that, the day was spectacular and we enjoyed every second of it.