Nick Cannon Drops 2nd Diss Track For Eminem!
2019 is rounding out the holiday season with a hip hop beef since Fat Joe's Family Ties album has sparked an old beef between Eminem and Nick Cannon since Em dug up some dirt from the past.
Eminem ripped into Cannon's ribs speaking about Mariah Carey on the Fat Joe track "Lord Above" featuring Mary J Blige and Eminem. Now, Nick's ripping a page outta Drake's playbook going back-to-back with another diss track aimed at Eminem. Check out Nick Cannon 2nd diss track for Eminem…
CelebNMusic247.com has the latest on the Nick Cannon Eminem beef that has been going on for almost a decade now.
The latest diss track from Nick Cannon dropped Tuesday and it's dubbed "Pray For Him." It's crazy … in the track — featuring The Black Squad — someone in Nick's crew raps why Juice WRLD had to die instead of Em.
Y'all gotta give it to Nick Cannon, he pulled out every weapon in his arsenal for this one — including dragging Eminem's ex-wife and daughter into his verses, and prison phone calls with Suge Knight talking smack about Em.
Nick Cannon's "The Invitation" diss is either a brilliant diss track Eminem can't possibly ignore — or it's Nick's eulogy … 'cause everyone thinks Em is about to destroy him.
But now he is back for round two with "Pray For Him."
That is why Em's boy 50 Cent has weighed in saying:
I don't understand to save my life why someone would pick a fight with EM. He is a different kinda animal, I haven't seen a motherf-cker come close to beating him man. ?hey Nick that shit was trash, I oughta kick you in yo @ss when I see you PUNK!
Eminem took to Twitter to FIRE BACK at Nick Tweeting: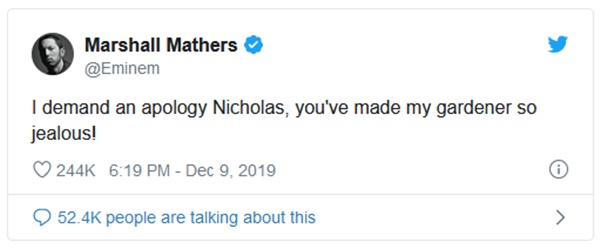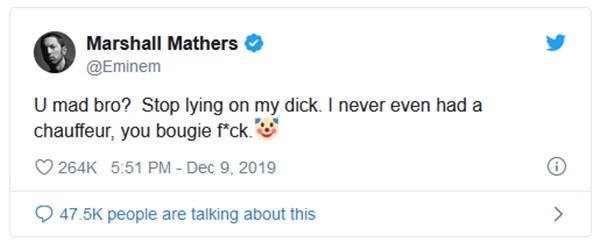 In addition to 50 Cent chiming in, it appears that Em's backup has just arrived Obie Trice, just released his own Nick Cannon diss track with "Spanky Hayes."
Check it:
What do you think about the Nick Cannon Eminem beef? Do you care?