Nick Cannon Fuels Eminem Feud With Dis Track!
Nick Cannon and Eminem continue to go at it over Mariah Carey. The two artists have been fueding for over a decade and now Cannon has dropped a dis track in response to Eminem blasting him on Fat Joe's "Lord Above" last week (Dec. 6). Read on to hear Nick Cannon Eminem Dis Track…
T.I. was not having any of Nick Cannon's goofy bs about Eminem ?? pic.twitter.com/huhxdc9Spu

— extraEminem (@extraEminem) December 9, 2019
CelebNSports247.com reports that Nick Cannon stepped into the booth and responded with a diss track of his own taking aim at Em on Monday (Dec. 9).
Nick Cannon's dis track titled "The Invitation" even features vocals from Suge Knight calling out Slim Shady from prison.
The Invitation" opens with a call from Suge Knight behind bars.
Knight says, ending his call with:
You know I don't do no talking, but Nick is family…Eminem's a b**ch!
Then, Cannon raps:
Call Kim, somebody get Hailey and that other kid you raising that ain't even your baby/ Took a page out of Drake book, this might get a GRAMMY/ We going back to back until you respond — on the family/ My baby mama killed you off a decade ago/ You still crying about it b**ch, now who really the hoe?
Cannon slammed Eminem on Instagram with this post: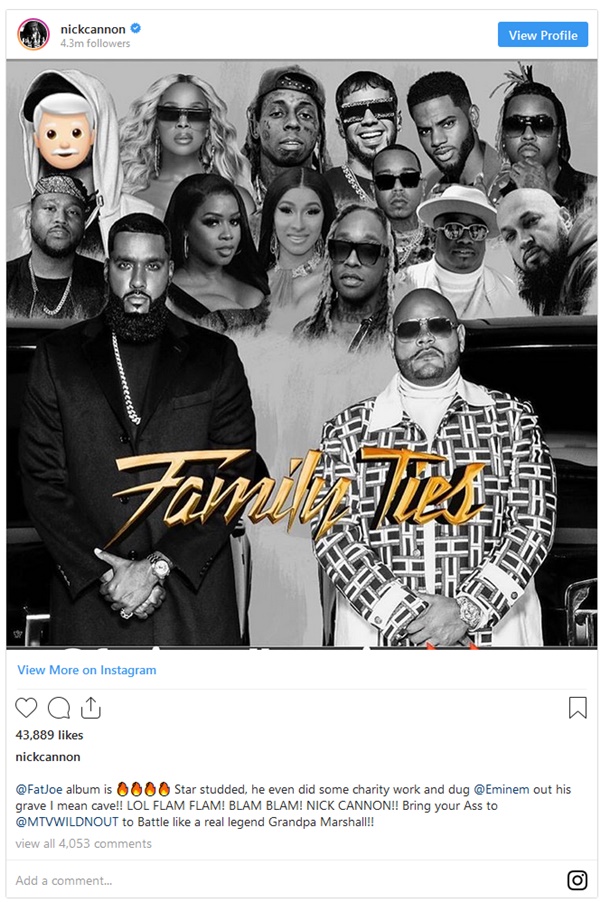 It appears Fat Joe is using Eminem to spark beef to sell his new album. Yes, this is typical hip hop foolery going back to the basics digging up old news about Mariah Carey to promote Joe's Family Ties album.
Check it: