Late Rapper Juice WRLD Had 70 lbs of Weed + Codeine on Private Plane!
According to reports Chicago PD has seized marijuana and they will now handle that part of the investigation. Read on as late rapper Juice WRLD had a stash of Weed and Codeine on his plane…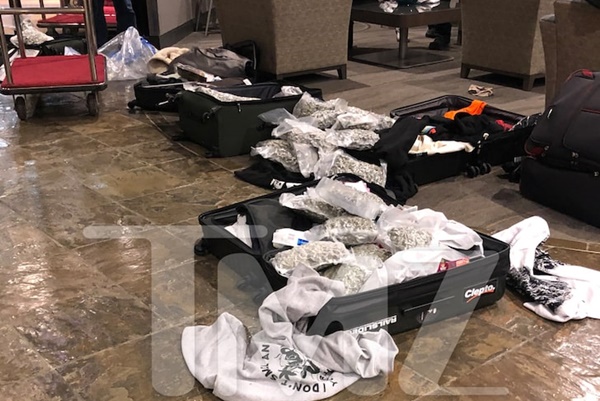 CelebNMusic247.com reports that in addition to the 70 Lbs of Weed, police found bottles of prescription codeine on the plane carrying rapper Jarad Anthony Higgins, also known as Juice WRLD before he died.
We are hearing that Juice WRLD's choice of drugs besides weed was Percocet and Lean. #SMH
Here is what we've learned via NBC News:
Police and FBI agents arrived to meet Higgins' plane at about 1:30 a.m. CT at Midway Airport on Sunday on the suspicion the rapper was in possession of contraband, the Chicago Police Department said Monday. Officers found 70 pounds of marijuana and six bottles of prescription codeine cough syrup in a search of the luggage on the twin-engine Gulfstream jet.

There were also two 9 mm pistols, a .40-caliber pistol, a high-capacity ammunition magazine and metal-piercing bullets found on the plane, according to police.
This explains why Juice WRLD's security was arrested for firearms.
What is crazy is that TMZ reports Juice WRLD's movements had been under the microscope of federal agents since at least last month which started with another private jet search.

Juice's initial run-in with the feds went down on November 18 at LAX … according to our law enforcement sources. The rapper and his entourage were boarding their flight bound for Sydney, Australia, when Customs Agents conducted the search.

We're told drug-sniffing dogs were all over Juice and co. and their luggage. It's unclear if agents found anything — we do know the plane was eventually allowed to take off with Juice on board.

However, Both the FBI and CPD have jurisdiction at Midway Airport, but we're told the FBI's referring this one to the locals. Homeland Security agents, operating under an FBI task force, searched Juice WRLD's private jet early Sunday morning when it landed at Chicago's Midway Airport.
If Juice WRLD didn't die, it appears the Feds were going to nab Juice at some point in the future.