During Watch What Happens Live with Andy Cohen interview with 50 Cent, Andy wanted to know about the Ja Rule beef and the time when the Power creator purchasing the first few rows of a Ja Rule concert.
Well, it apparently sill bothers Ja Rule, so he is now FIRING BACK calling 50 Cent as a "pathological liar." Read on…
CelebNMusic247.com reports that 50 Cent was asked about the Ja Rule incident during a recent airing of Watch What Happens Live With Andy Cohen.
50 Cent answered the question 'did you ever hear back from Ja Rule after buying 250 tickets to his concert to make it look empty.
He said:
I just happened to see them on the Stubhub, they were so cheap for you to buy it. I was like, 'They're so cheap I might as well just buy them.
Cohen then asked 50 whether Ja has reached out to him after the concert?
50 replied:
Nah, they don't call you after that.
Well, that didn't sit well with Ja Rule so he took to social media to say this:
This ? @50cent is the pathological LIAR… ??? I'll cash app 10 bands to ANYBODY who has pics or footage of said show bozo bought 200 tix to so it could be empty… I'll wait… y'all believe anything goofy tell y'all… ?!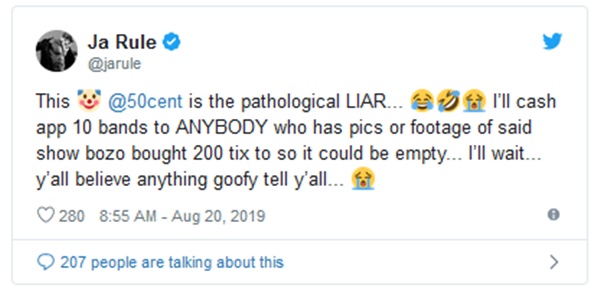 Ja claims that it NEVER happened:
??? Not y'all too ????? get it together @HOT97 this shit NEVER happened… I got 10 bands for anybody wit receipts lmao sheep… ? https://t.co/zMmmIr5opU

— Ja Rule (@jarule) August 20, 2019
If that is true then why was 50 Cent able to post this picture from Ja Rule's concert sitting in a row of empty seats?  This is NOT the first time Ja Rule has CLAPPED BACK at Fiddy. And it appears he watch 50's interview, so who is watching who?