Headliners Year of the Dragon performed a great show featuring Dirty Walt Kibby of Fishbone at the Redwood Bar in Los Angeles on May 10th.
It was a night all about Year of the Dragon as they had a release party for their new CD Take Control. Read on…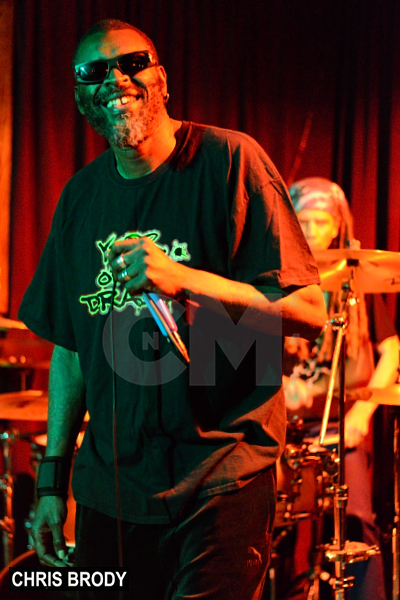 CelebNMusic247.com has the latest from Year of the Dragon music is a blend of Metal, Funk, and Punk into a molten rock that sets souls on fire and gets bodies moving!
Dirty Walt Kibby is the lead vocalist for this band of thieves with his own unique vocal delivery that separates YOTD from the rest. Fans of Fishbone and Year of the Dragon packed the house as they lit the Redwood Bar up.
Their set was fast-paced and Raw, with super balls HEAVY grooves, crunching 7 string guitar and flailing solos. It was an awesome blend of vocal harmonies by the 2 vocalists, pounding drums, and thumping bass that just makes your body move without you knowing.
Stay Connected to YOTD: Facebook | Twitter | #YOTD
You can thank the awesomeness of YOTD's band which features the chunk and shred of Marc Rey on guitar, the Bootsy-esque punk-thump of T-Bone on bass, and the greasy double-kick grooves of Kerim Imes on drums. Following in the tradition of Fishbone, Red Hot Chili Peppers, Living Colour, and Bad Brains, Year of The Dragon is everything and more.
What can you expect from a YOTD show?
Expect a night filled with a Killer blend of Heavy Metal Soul, punk rock, hardcore, & slinky funk, with bit of ska & reggae.
Their new CD "Take Control" explodes from speakers with greasy grooves, hairpin turns, and forked-tongued verses! The title track is a journey into the slam pit of life: getting knocked around by friends, enemies, life, but always staying on your feet and spitting game right back!
The standouts tracks are "Hammertowe" a speed portrait of a maniacal judge dispensing radical justice in a world where fools no longer skate Scott free. Another standout song is "Simple Man," a groovy anthem for summertime partying! And for you punk fans there is "The Wreckoning," an epic thrash/punk journey of comeuppance and redemption.
Take a look at highlights from YOTD's set at the Redwood Bar below: