We all know that Khloe Dumped French Montana a few months back, but now it's been revealed that the wrench in the spokes was Amber Rose.
CelebNMusic247.com has hot tea spilling from our friends at TheShadeRoom that it appears Amber Rose swirling with French Montana may have been the reason Khloe dumped her opportunistic boyfriend.
[rpi]
Here is what The ShadeRoom has spilled along with photo evidence proving his cheating ways:
Amber Rose has been lurking through French Montana's page and liking his pictures ever since she split with Wiz. She even followed French Montana on Instagram not too long ago. Rumors have been swirling that these two are connected, but no proof has been provided. Until now.

As you may know, Amber and Blac Chyna have been hanging out together lately; it's almost like an alliance to get revenge on their exes. Just the other day the two besties blew up the internet when they posted a video twerkin' in head wraps…then they were spotted at Supperclub twerkin' on the stage together. We think it's a good thing that they are enjoying their freedom, men do it all of the time.

It's no secret that toddler Kylie Jenner snatched Blac Chyna's Baby Fava,Tyga, away from her. Also, if you can remember Kim Kardashian had a secret affair with Amber Rose's ex-boyfriend Kanye West when they were together….and now they are married. This is why it doesn't come as a surprise that Amber Rose is trying to get the Kardashian Klan back by kicking it with Khloe's man French Montana.

If you are wondering if Khloe is still with her man French…she is. Just last month the couple bought Diddy a Cadillac Escalade as a joint gift. Recently, Khloe Kardashian and French have been spotted at events together. Khloe was even French Montana's date at his Birthday Bash last month.
It's sad actually that Khloe is so thirsty for a man that'll she is willing to put up with her man cheating on her. #ThirstyGroupie
Here is the proof ya'll looking for: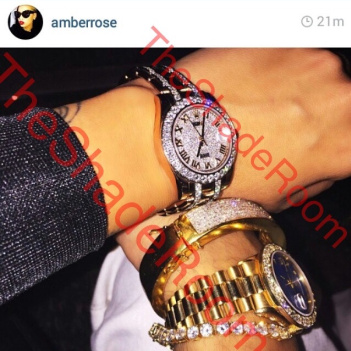 As you can see, the male wrist featured in this photo appears to belong to French Montana. Not only is he the same complexion, but that is his jewelry. You can even see that he has on white pants in the picture as well, this is what he was wearing today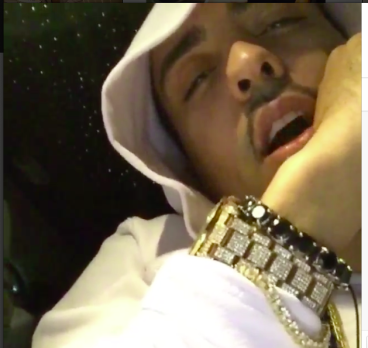 Check out this screenshot from his Instagram page. It is clear that the diamond bracelet on his hand is the same bracelet seen in Amber Rose's picture.
Also, we spotted him wearing the same bracelet (the thicker one) in the DJ Khaled- "They Don't Love You No More" video:
Related articles