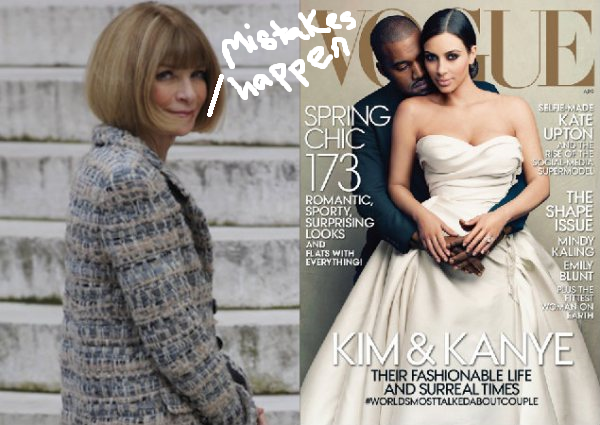 Vogue Gets SUED Over Kim and Kanye Cover
Vogue editor Anna Wintour has been receiving lots of flak ever since the Kim and Kanye cover hit the newsstand, but now the magazine is getting sued!
Vogue editor Anna Wintour's company is now being sued over the April photo shoot.
CelebNMusic247.com has learned that a forgotten boy-band crooner, Rickey Spicer, from the 1970s The Ponderosa Twins Plus One has SLAPPED a lawsuit on Vogue for using the song for Vogue's behind the scenes of the couple. He was dubbed as a 12-year-old Michael Jackson wannabe for the one-hit-wonder.
Spicer sued West last year, claiming the rapper swiped one of his songs for a track on his album "Yeezus," is back at it with a new lawsuit attacking Vogue for using the tune in a behind-the-scenes video.
It's obvious that Kanye West used the track and even used the same title for his "Bound 2" single which has Kim Kardashain as the feature hottie in the video.
Check the tracks and compare:
The Ponderosa Twins Plus One "Bound"
The "exclusive video," posted on Vogue's website, "takes you on set with the happy family," with images of a canoodling Kimye posing with baby North for celebrity photographer Annie Leibowtiz.
Spicer's Manhattan civil suit against Vogue publisher Condé Nast says "Mr. Spicer's voice is used substantially throughout the video, comprising approximately 44 percent of the lyrics."
The Ohio man says the magazine "knowingly used the voice audio recording of Mr. Spicer without his authorization or consent."
He wants unspecified compensation.
West, a 21-time Grammy Award winner, aggressively lobbied Wintour to put his curvaceous baby mama on Vogue's cover. He even insisted that the reality TV star was "more relevant to fashion" than First Lady Michelle Obama.
Wintour finally relented, saying in an editor's note that Kardashian "has created a place for herself in the glare of the world's spotlight … through the strength of her character."
At this point a rep for Vogue has NOT immediately respond.
#CelebsAreCoolRight
Thoughts?
Related articles