Ventura Sheriff Announce Search For Naya Winding Down!
The family is doing everything possible to find their loved one, but there has been no sign of Naya or her body in Lake Piru. Read on for more details from Ventura Sheriff regarding search for Naya….
The search operation for #nayarivera at Lake Piru is winding down, #CelebNMusic247.com reports. #Sad Our heart is breaking for her family. We love #LakePiru. This is so crazy right now. https://t.co/EiPFzORVVj

— Celeb N Music 247 (@CNM24_7) July 12, 2020
CelebNMusic247.com has the latest reports from Ventura Co. Sheriff as they have announced that the search for Naya Rivera is coming to a close.
On Sunday, Naya Rivera's ex-husband Ryan Dorsey and her father, George Rivera, waded the same waters where she was presumed to have drowned.
The family NEEDS closure and Ventura Co. Sheriff "goal is to bring the family closure." They are very aware of the situation in hand and know that this is "a traumatic time" for Naya's family.
The Sheriff states that Naya's family is "devastated, obviously."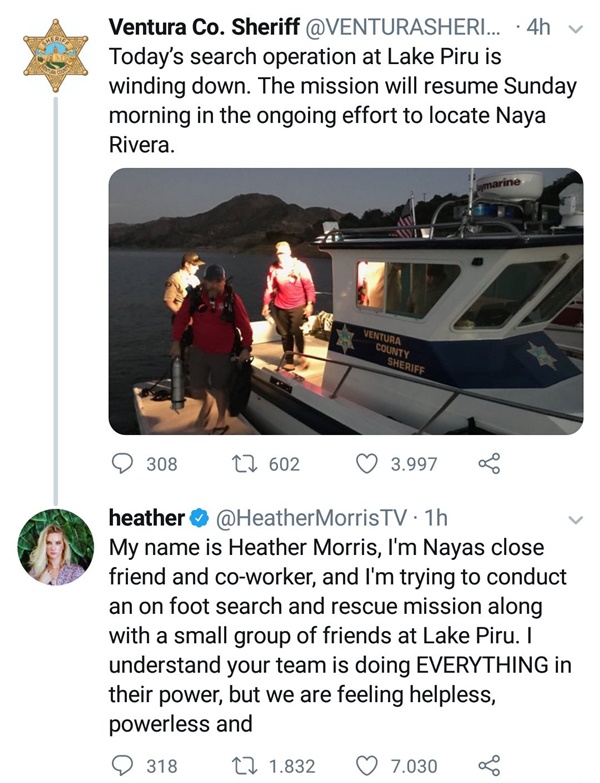 After Naya's friend Heather Morris said she was holding her own search party on the shores for Naya,  The Ventura Co. Sheriff announced Lake Piru is CLOSED:
In today's search for Naya Rivera, cabins and outbuildings in the surrounding area will be checked once again, as well as the shoreline. This has been part of the ongoing search effort since her disappearance on Wednesday afternoon. Boat crews continue to scan the lake.

— Ventura Co. Sheriff (@VENTURASHERIFF) July 12, 2020
For those intent on searching for Naya Rivera on your own, 1. The lake is closed. 2. Temps are already in the 90's. 3. The terrain around the lake is very steep and rugged. Our teams are well equipped and highly trained. We don't want to have to rescue you.

— Ventura Co. Sheriff (@VENTURASHERIFF) July 12, 2020