Timbaland Bill Cosby Comments Receives Major Backlash!
CelebnMusic247.com reports music producer and rapper Timbaland is the latest to come under fire for his comments about Bill Cosby being released from prison. Read on for more about Timbaland and his Bill Cosby comments…
#CelebnMusic247 #Timbaland support on #BillCosby https://t.co/l09EIl97wO

— Celeb N Music 247 (@CNM24_7) July 1, 2021
Bill Cosby's release has been somewhat controversial for the people who care, and for others, we continue to go about our day.
NOTE: Timbaland quickly pulled down the post after he started receiving major backlash by Twitter!
As for Bill Cosby, the 83-year-old still proclaims his innocence despite what naysayers are claiming.
His former co-star and friend Phylicia Rashad showed her support of Bill Cosby publically but was condemned by Howard University!
This was major news for many, while others were more concerned with Soulja Boy and Bow Wow wasting everyone's precious time boasting on who had the better product on the market. Was it lemonade or do-rags? Who cares, you both are annoying!
TONITE ?? it goes down @souljaboy vs @shadmoss oooooooweereerrr???? @verzuzonline @triller 8pm est. 5pm pst??? pic.twitter.com/Cr3EX4EgsJ

— Timbaland (@Timbaland) June 26, 2021
Anyways, it appears that Timbaland made a comment saying that someone was going to make a rap song about Bill Cosby being released and cash in on it.
You know that's true, so what's the big deal?
Twitter jumped on the opt and weighed in saying that Timbaland has turned a blind eye to a ton of sexual abusers like Russell Simmons, Soulja Boy, and more.
One Tweet caught on saying, "it's like is seems it was intentional?"
Ya think?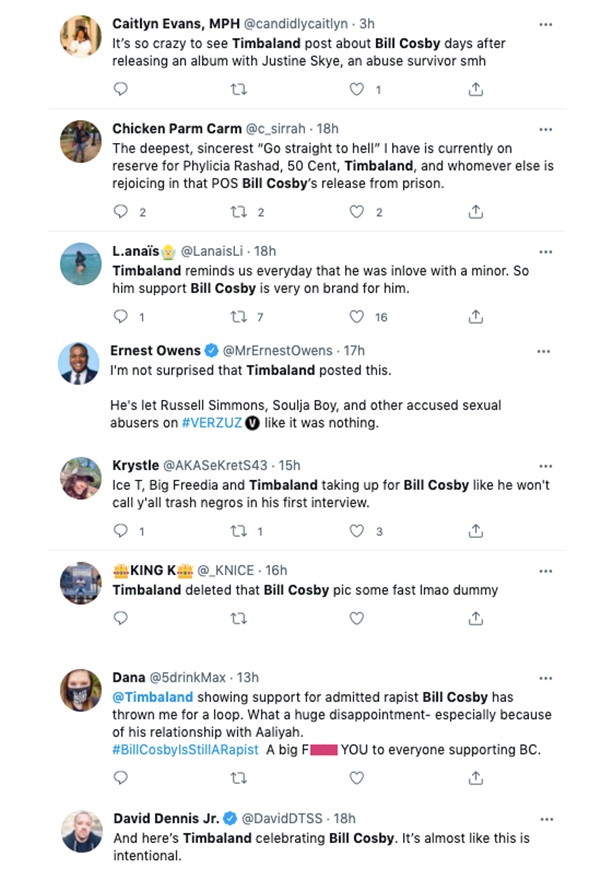 For those of you who just want to forget ALL about this look into the light:
Timbaland to his Bill Cosby IG post pic.twitter.com/KEQgXYrzYq

— Patrick Pryor (@_PatrickPryor) July 1, 2021