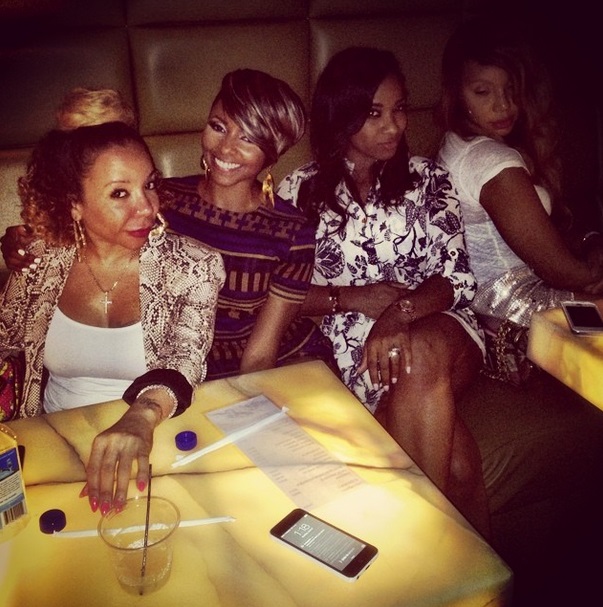 T.I.'s Mom Weighs In on Marital Rumors!!!
Rapper T.I.'s mother, Violeta Morgan
 is pleading to his son's wife,
Tameka "Tiny" Harris
 to make amends with her husband!
Basically, T.I.'s Mother Wants Tiny Harris to Make Amends with her son Clifford Harris!!!  CelebNMusic247.com has learned that Tips mom is concerned after rumors of a separation erupted following a public brawl with boxer Floyd Mayweather. But the rumors of divorce are just that, rumors. Violetta means well, but she needs to get all the deets before sounding off, see T.I. and Tiny still love each other, they're just having some problems. However, Mamma Morgan made her voice heard underneath an Instagram post by the former Xscape singer who posted a photo of herself with her friends. Violeta weighed in saying:
"Tameka you look happy with your friends, but nothing, absolutely nothing van replace the feeling of being happy with your man! Please have a serious talk with Tip?"
Bow you would think mom knows best, but her son has been sounding off ALL week.
While T.I. fueled the rumors that he and his wife are still feuding when he posted a childish dig at his estranged wife's best friend and hairstylist, Shekinah in his Instagram post while attending the Tony Awards with his daughter Deyjah Imani Harris.
"Me & my date headed to watch da Tony Awards(that's da oscars for Broadway Plays for all u Shekana-types)…. #bestdate #ever#famhustlegangovererrrrthang."
Despite the rumors of separation and possible divorce T.I. has sounded off threatening anyone who comes for his family with negative words:
"Expect the best, be prepared for the worst, f**k what others think & do your own thing."

"Regardless of whateva….. I allow disrespect of me & mines #NEVER !!!!! Watch ya mouth & mind ya Bizness…. Best treat it like a football game…. Observe safely from da sidelines & stay off da field,unless u wanna get HIT!!!! #nuffsaid #hustlegangoverrrrthang"
Then, the "Family Hustle" reality star posted a cryotic message seemed to be aimed at his alleged dysfunctional marriage to the former Xscape singer Wednesday:
"If your presence can't add value to my life, your absence will make no difference."
Adding:
"If U ain't an asset,you're a liability. No in between. No exceptions. #Factstho#GodGuidesMySteps So What Shall I Fear???? NATHANIEL!!!!!!! #nomediocre#hustlegangoverrrrthang."
Later Tiny chimed in when one of her fans made a comment about her marriage to Clifford Harris. She went off saying:
"@majorgirl obviously I don't know n u don't know me obviously but i am also young n married to my soul mate n I do know real love when I see it..u n@troubleman31 should get to the root of what's happened n fix it..marriage is not easy n I would hate to see a love that has lasted as long as it has to end..Do whatever u have to… as the saying goes misery loves company this cold world we living in when u have something worth fighting for FIGHT! so many Hollywood fly by night relationships I definitely don't want yall to fall victim #teamtintiny#blacklove…"  
Like we previously reported they're currently living separately but are working out their problems as they love each other very much and have no plans to divorce.  They are just having some marital bumps on the road of life like everyone else, they just happen to be on TV and the media is watching.
Thoughts?
Related articles