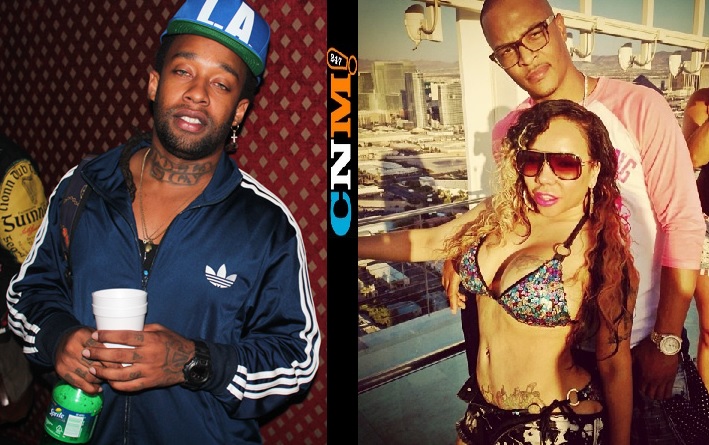 (CelebNMusic247-News) Ty Dolla Sign Disses T.I. and Tiny
R&B singer Ty Dolla Sign goes in on T.I.'s wife Tameka 'Tiny' Cottle physical features and overall appearance.
On numerous occasions rapper T.I. has made it clear that he loves his wife Tiny and their kids, but people still find a way to taunt Tiny about her physical features! Unfortunately,  Ty Dolla Sign thinks otherwise and has decided to FIRE SHOTS at the T.I. & Tiny: The Family Hustle star.
Despite the success of their hit reality show on VH1 entitled T.I. & Tiny: The Family Hustle, Tiny has dusted off the negativity and has NOT responded to the remarks. While T.I. refuses to let the negative talk go without being addressed. Most recently he dragged a female for making fun of Tiny's looks on his Instagram account and it got pretty ugly.
You would think the up and coming R&B singer Ty Dolla Sign, born Tyrone Griffin, would choose another way to get his name on the map of music, but he's decided to go in on Tip's main squeeze.
The song is being played on the Atlanta airwaves firing direct shots at the former Xscape singer Tameka Cottle aka Tiny Harris.
In his single "Paranoid," he brags about all the "bad" females he pulls on a regular basis, but the rapper he featured on the track decided to take a jab at Tiny in one of his verses. Our reader told us she felt it was just "disrespectful."
In the lyric,  LA rapper Joe Moses suggests the women he has around him are beautiful, "not tinnies" on the Ty Dolla Sign diss track  "Paranoid."
Moses raps:
I got a spandex b*tch, her name Miha
See all my b*tches is bad, I'm like T.I.
Ain't no tinies around me, uh uh b*tch
Check it:
We're wondering if T.I. will Fire Back at this ignorant low blow?
Related articles