Star Wars IIV Title Revealed
The movie Gods have answered ALL of our prayers today as Star Wars IIV Title Revealed today via film director  J.J. Abrams and Walt Disney Pictures.
The tweet also announced that the highly anticipated film, "Star Wars: The Force Awakens," has completed principal photography.
Not only does Star Wars 7 have a star-studded cast, Abrams is directing the pic that stars John Boyega, Adam Driver and Daisy Ridley with Mark Hamill, Harrison Ford and Carrie Fisher also reprising their roles.
Today Disney confirmed the title of Star Wars IIV the tweet: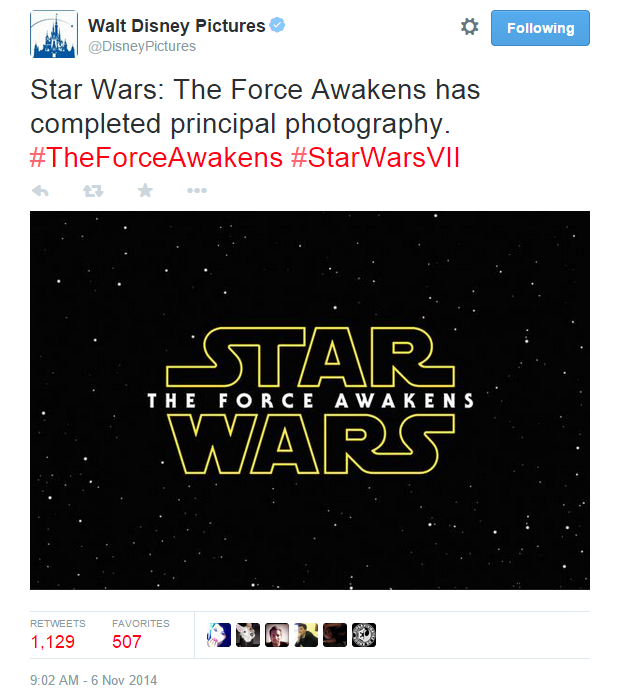 "Star Wars: The Force Awakens" is set to hit theaters Dec. 18, 2015.
In other news: Star Wars IIV wrapped over the weekend with a big party in London:
Over the weekend, the cast of the JJ Abrams-helmed sequel gathered at London's Science Museum to celebrate the end of principal photography. There is actually still a few more days of filming left, but some of the core cast were done and leaving. So Abrams threw a slightly-early party.
Those in attendance got Thank You cards from the producers which read:
"We are here to make a film that entertains millions of people, of all ages, for generations. To create an experience people will cherish watching as much as we will cherish having made it, together. From the deserts of Abu Dhabi, to the Forest of Dean, to the stages of Pinewood, you have risen to every challenge and been as wonderfully kind as you are brilliantly talented."
Related articles