Ok, this is interesting. Shawn Mendes sent his underwear to The 1975 lead singer and frontman, Matty Healy.
Read on to see why Shawn Mendes sent his underwear to The 1975 lead singer Matty Healy…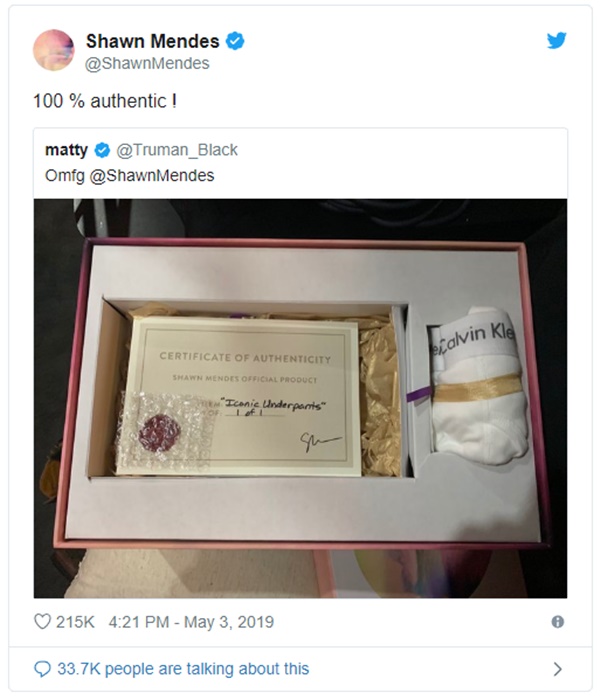 CelebNMusic247.com reports that Shawn Mendes says that the extra special gift was a request from Matty Healy himself.
According to Shawn Mendes, the underwear saga began when Matty Healy tweeted at Mendes:
My tour manager said you are sending me a present @ShawnMendes it better be them iconic underpants.
Following the Tweet, Shawn Mendes delivered on his request!
The package contained Mendes' actual underwear seen from a Calvin Klein photo shoot. The underwear was rolled into a ribbon along with a certificate of authenticity.
The paper reads as seen above:
Certificate of Authenticity, Shawn Mendes official product, 'Iconic Underpants' 1 of 1.
What is so funny is that Mendes even signed the underwear for Matty.
Earlier this year, Mendes and Healy made headlines, creating excited fans after they shared the most basic Twitter interaction. Mendes initiated the short-lived conversation writing "Hey!," to which Healy replied "Hello!".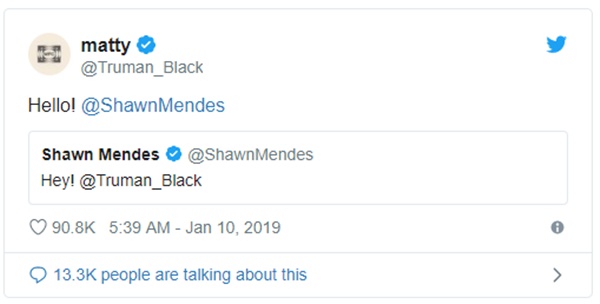 Prior to the short-lived exchange, Healy was in shock after Mendes admitted on Twitter that he was a fan of his band's music.
Matty Tweeted:
We wonder, did he smell Shawne's underpants? Yes, it sounds gross, but you know he did.