G-Unit head honcho 50 Cent isn't letting up on Young Buck who has been taking to social media claiming that Fifty has been locking his music career.
Young Buck has been asking 50 Cent to release him from his G-Unit contract so he can make money and continue his career, but the former friend has been beefing. Read on to see why 50 Cent LOCKS DOWN Young Buck…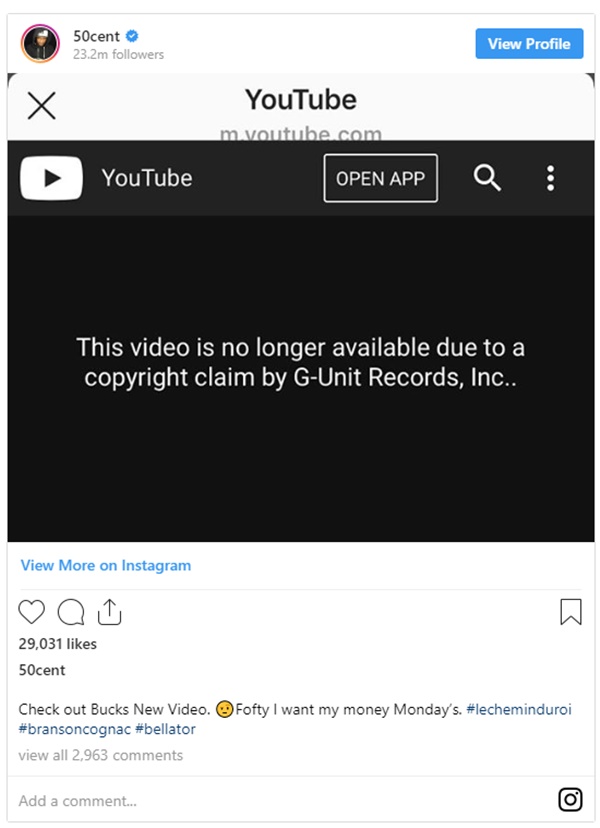 CelebNMusic247.com just got word via 50 Cent that he just slapped Young Buck with a copyright infringement claim on him.
50 Cent LOCKS DOWN Young Buck New Music Video "Skyscraper"!
If you wanted to watch Young Buck's new video "Skyscraper" from his mixtape Compulsive, think again.
Though we have to admit that Buck's mixtape is fire, 50 Cent is letting the former G-Unit rapper know that he still owns him.
The video has been removed by Fofty, 50 Cent's merciless alter-ego.
Fifty captions the photo above after locking down the video under a copyright infringement claim:
Check out Bucks New Video. ?Fofty I want my money Monday's.
Over the past few weeks, Young Buck has threatened to destroy 50 Cent after the G Unit general roasted him on social media earlier today. Buck has tried to reveal to his fans that Fifty has sent him a cease and desist because he is holding him to a G-Unit contract.
Following, Buck's threats, 50 Cent FIRED back mocking Young Buck with a GoFundMe page.
The whole thing is sounding very close to the Lil Wayne Birdman legal battle over the years.