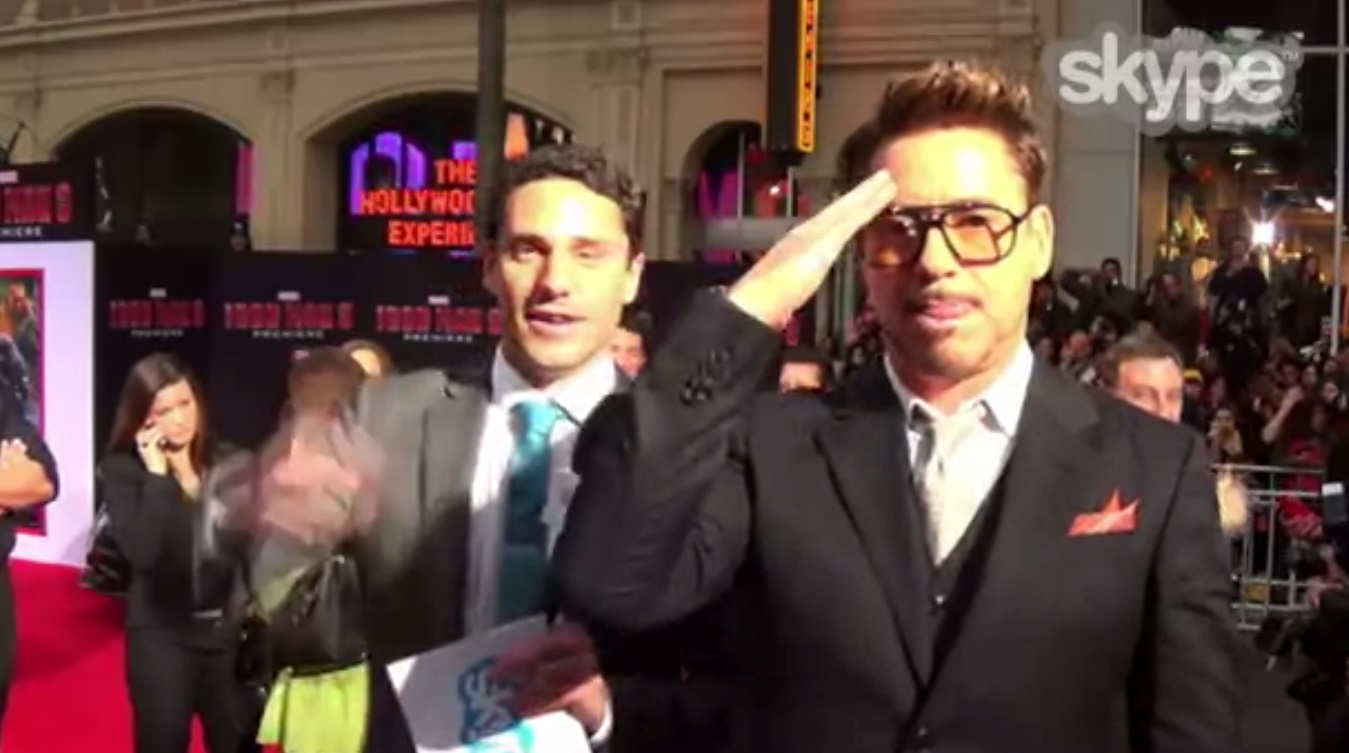 Last night was the premiere of Iron Man 3 at the El Capitan in Hollywood and the stars were shinning bright as Robert Downey Jr. drove up in a red convertable and spoke with to the troops via Skype.
Here's the drop:
Skype is connecting military troops with the stars of the upcoming blockbuster,Marvel's "Iron Man 3," through a special live video call from a custom-built 'Skype Suite' at the film's premiere at the El Capitan Theatre in Los Angeles. Through an oversized monitor, Skype will allow the troops stationed at Joint Base Lewis -McChord located near Tacoma, Washington, to virtually attend the red carpet and take part in the Hollywood premiere excitement. The troops will also interact with the stars of Marvel's "Iron Man 3" via Skype and ask about their experience in the film.

Adding to the excitement, families of several of the troops stationed at the base will be reunited with their loved ones via Skype as they walk the red carpet.  Joint Base Lewis-McChord will also host its own red carpet arrival at the base, followed by an exclusive screening of Marvel's "Iron Man 3", airing simultaneously with the Los Angeles premiere.
 The film stars Robert Downey Jr., Gwyneth Paltrow, Don Cheadle, Guy Pearce, Rebecca Hall, Stephanie Szostak, James Badge Dale with Jon Favreau and Ben Kingsley.
Iron Man 3 is directed by  by Shane Black from a screenplay by Drew Pearce & Shane Black and is based on Marvel's iconic Super Hero Iron Man.
Iron Man made his first debut when he appeared on the pages of "Tales of Suspense" (#39) in 1963 and then in 1968 Iron Man made his first debut in his own comic titled "The Invincible Iron Man" (#1).
CelebNMusic247 brings you latest news on celebrity daily…Stay Connected to CelebNMusic247.com: Follow us on Twitter – Like us onFacebook and Friend us on YouTube 
Related articles