(CelebNMusic247-News) Peter Thomas Bar One Drama to Play Out on RHOA
Back in August RHOA's Cynthia Bailey husband Peter Thomas Bar One dramas began to unfold when he found out owners the property were short-selling to avoid foreclosure
Now with the new super trailer for the new season of Real Housewives of Atlanta it shows a snippet of the dramas Peter is facing when he talks with Cynthia in one of the clips.
SPOILER ALERT: In case you didn't know, Peter Thomas is the owner Bar One but may be ofrced to close his business since the owners are short selling the property he is leasing. And for the record the issues with the business has nothing to do with Peter or Cynthia Bailey and their finances!
Here's the email StraightFromTheA recieved in August:
We all remember the episode of RHOA where Cynthia loaned now husband Peter Thomas over 50k for his new investment after his failing previous endeavors. Extremely RELIABLE sources have confirmed that on September 3, 2013 both properties will go up for auction on the steps of Fulton County.

The Realty Company is called Closing Deals LLC The broker (Juel McGhee) personally has it listed and it is listed as a short sale.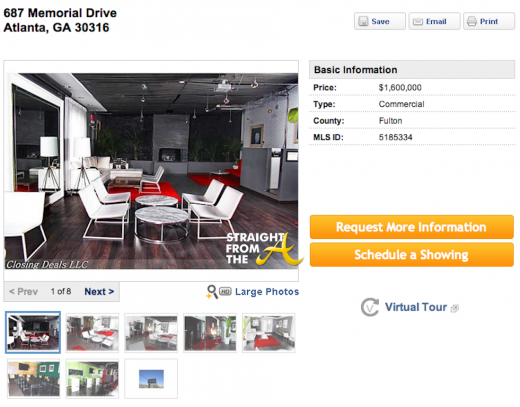 Here is what Peter Thomas had to say about his business, Bar One being affected by the owner's of the property:
When SFTA reached out to Peter Thomas he openly spoke on the incident and says that the Bar One property is leased and that it's true that the owners are in foreclosure… not him.

Peter says he is renting the spot and while it's true that the owners are offering the property as a short sale to avoid foreclosure, Thomas says that he's submitted a bid and is "the first in line to purchase" the property.

After I heard Peter's explanation, I wasn't going to even bother blogging it but Thomas says he wants the truth out there so that there will be no misconceptions about him or Cynthia being foreclosure.
Thank you Peter for giving us the details on what's really going on.
Related articles