Offset Stockpiling Weed During Quarantine!
It appears that rapper Offset is preparing to chill, sit back and smoke out while locked home during Coronavirus quarantine. Read on for more on Offset Stockpiling Weed…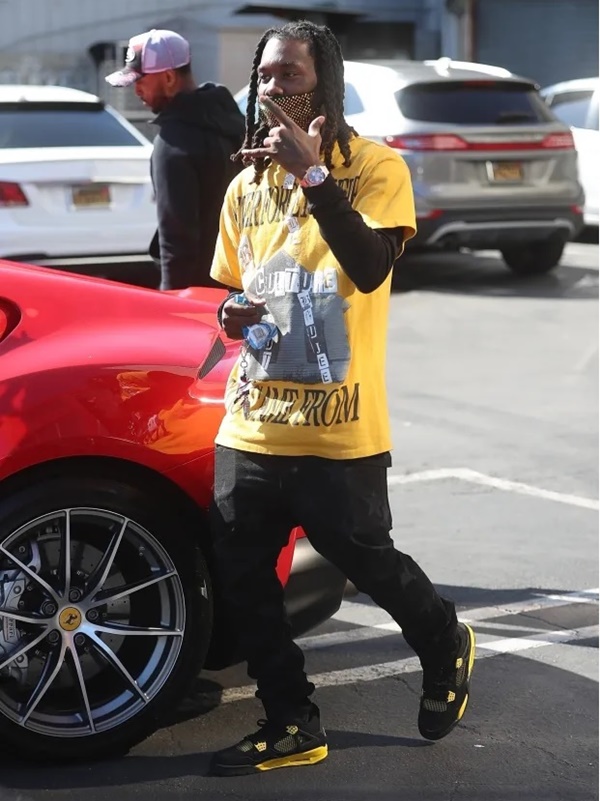 CelebNMusic247.com reports that Offset was spotted in Los Angeles yesterday by the paparazzi buying a massive amount of weed during these strange times.
Hey, lets be real, Cardi's husband is just getting his mind right while most of the world is stressing, panicking and freaking out.
The Migos member was seen outside a marijuana dispensary, Cookies Melrose. He appeared to be stocking up on his marijuana for the quarantine.
The rapper purchased a large quantity of product from the store. It was so big that the box could hardly fit inside of the trunk of Offset's new car – a Ferrari 812 superfast. The Ferrari retails for around $500,000.
While the lockdown continues throughout the state and country, it looks like Offset has plenty of time on his hands to Netflix and chill with his mama Cardi B.
On Monday, Offset shut down RUMORS that he was dipping on the side behind Cardi's back.
Kiari Kendrell Cephus, best known as Offset addressed the cameras directly to shut down the rumors.
He said:
I know y'all making something out of nothing out of that stream when I was playing the game and my girl came in the room and I grabbed the phone, whatever the hell y'all say, I put the phone up.

Come on with the…we got so much negative energy out here in the air, sickness. Don't bring none of that negativity to my family. We chilling, man. We ain't in y'all way. Everything positive. We got investments and big moves coming. Y'all just making something out of nothing. That ain't 'bout nothing. I won't be doing no negative nothing.