Meek Mill Called Out By Producer Young Chop!
Chicago producer Young Chop is the latest to have beef with rapper Meek Mill. In fact, he is making some shocking allegations. Read on…
View this post on Instagram
CelebNMusic247.com reports that Chicago producer Young Chop went on a series of social media rants against Meek Mill alluding that he's engaged in sexual activity with Meek's girlfriend, Milan Harris.
Young Chop didn't hold back on Meek, oh no.
He laid in Tweeting:
On some real sh*t @MeekMill mad cuz his b*tch suck my d*ck on my mother that's why he mad at me and it's wasn't Nicki Minaj.
Apparently, Chop isn't a stranger to Meek. He nonchalantly shrugged the producer's rant off as "mental issues."
Meek FIRED BACK with the tweet:
It's obvious chop having some mental issues… y'all be gassing stuff so much y'all just gone ignore it! I been getting beats from him for years hope he get well.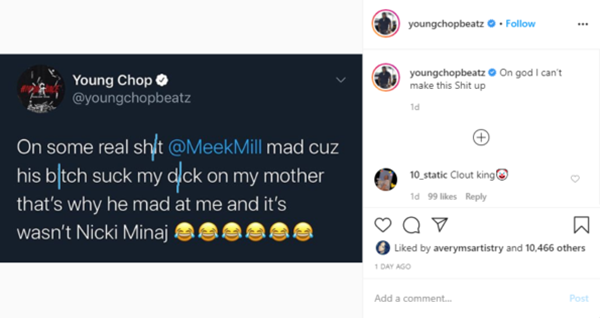 The Dreamchaser isn't the only industry target if Young Chop's.
Nah, it seems that he has gone after a few hip hop heavy weights like Diddy, Spike Lee and TIP.
They all had something to say about Young Chop on social media. See, he seemingly insults hip-hop heads frequently.
Check it:
View this post on Instagram