Nicki Minaj Majorly Disrespected By Tekashi 6ix9ine!
Tekashi 6ix9ine BLASTS Nicki Minaj For No #1 Charting SOLO Records!  We previously told you that 6ix9ine is desperate for clout. He tried to pay Lil Durk $3 million to troll him but the Chicago native DENIED him.
What's next?
6ix9ine was striking out on the hip hop community, so he went on the attack against Nicki Minaj pointing out during a recent interview that she doesn't have any #1 SOLO records on the charts! Read on…
CelebNMusic247.com reports that it's kind of a kick in the face for Nicki since it was said she was doing a favor for Lucious, the man behind 6ix9ine these days.
Not to mention she collaborated with him on his song 'Trollz' which made history for the first #1 to drop drastically in the first day. Its the worst drop in music history. The song is garbage, just like "Tutu."
So far, CelebNMusic247.com, Tekashi's second album is a pile of crap.
As you know, many in the rap industry were very surprised when Nicki Minaj decided to work with Tekashi 6ix9ine, considering he was a snitch and was beefing with most top artists in the industry.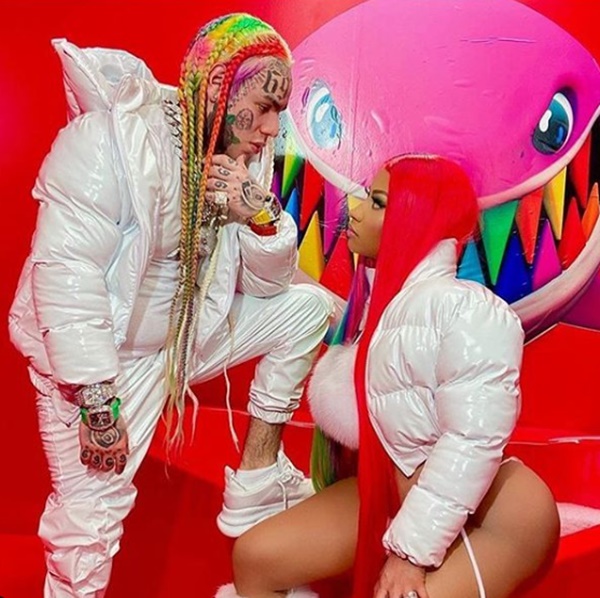 Nicki really played herself working with Tekashi69, and now he's dissing her and her music catalog.
69 said:
I love that girl to death. When has Nicki ever had a No. 1 'til this day?
The interviewer responded, pointed out Nicki's huge success with the remix of Doja Cat's record "Say So," but Tekashi launched back saying:
No, no no… I love Nicki. That's my sister. I love her to death. Give me a Nicki single that's been No. 1. Her record.
Though, the Billboard reporter is forced to confirm Nicki's lack of a #1 SOLO record.
Tekashi said:
That's my record.
Many Nicki Minaj fans are upset with the notion that 'Trollz' would NOT be as popular as it is without her verses and her influence.
What is worse is that Minaj even got on Instagram and gave him a pass for the snitching!
It's clear in the interview Tekashi is trying to convince the reporter he is tight with Nicki but is willing to use her to make his point.
6ix9ine proves once again that he's a turncoat and will step on anyone and everyone to be a success. "No matter what it takes."
The latest interview is just the latest of a long line of dangerous and reckless actions and statements. Hip Hop NEEDS to dismiss him.
We wonder what he will say about Black Chyna if "Tutu" flops.
Can you believe Nicki Minaj was majorly disrespected by Tekashi 6ix9ine