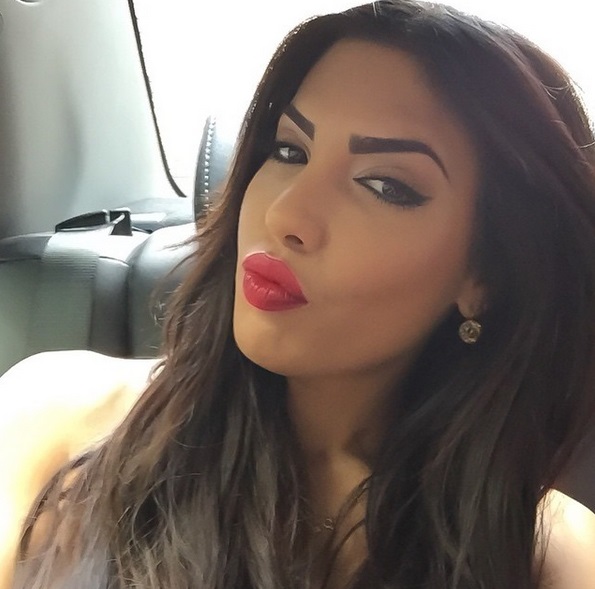 Natalie Guercio Fired From Mob Wives?!?
Mob Wives 5 was filled with MAJOR drama between Karen Gravano after Ratalie started calling her a rat, things escalated and the end result was, Natalie Guercio Fired From Mob Wives.
Her Lashes may be on Fleeeek in the photo above, but her reality TV days have come to an end.
Yes its true, Natalie Guercio confirmed that she will NOT be returning to Mob Wives 6 after a turbulent run with all of the ladies. But the truth is, The ENTIRE cast wanted Natalie OFF the show for her malicious ways.

Natalie started a lot of problems during season 5 with Karen Gravano, and the thing is, she didn't even know Karen, she just heard about her father doings with the mafia before she was born.

Anyways, after season 5 wrapped, Karen Gravano took to Twitter to bash Nat G. and she also announced that Guercio was fired from the show.

Shortly after the Mob Wives reunion aired, the entire cast was demanding that Ratalie aka Nat G. and Natalie DiDonato get the boot!

Karen Gravano announced on twitter that Natalie is "not on the show anymore" after being caught making racist comments.
Karen followed her comment with this tweet:

[rpi]
Giving further credence to the RUMOR, Natalie D then re-tweeted:
"Im surprised nat g hasn't been on here crying abt how she got fired…the way she conducts herself on twitter u wld think she b popping off."
Guercio replied:

Which some claimed it to be a denial that she was FIRED, but like Natalie said, she had not been informed yet.
If you remember, Big Ang and Renee Graziano are expressed their disappointment with the Natalies and how their inauthentic drama over-ran the show during season 5. Ang is incredulous at the lengths she'll go, saying their "mentally exhausted" by Natalie G's behavior.
Ang added:
"The things that come out of her mouth, I've never heard half of the things that this girl says. She hits below the belt."
After all the drama that took place during the show and on the reunion, especially between Natalie and host Vivica A Fox, producers knew what had to be done.
Mob Wives show creator and executive producer Jennifer Graziano has yet to confirm whether the accusations are true or not, but it looks like Nat G. may have already done the job for her.
Shortly after the confusion on Twitter, Guercio took to Instagram to share a message with her fans and some believe that the message was confirmation that she will not be returning to the show.
The mouthy Philly girl wrote:
"I have made the conscious decision of starting a new life filled with positive energy. No one can define who I am but me. Doesn't mean I'm perfect or that everything will go my way but, I like that, I'm able to see my growth and evolve. POSITIVE VIBES, SHOW LOVE GET LOVE ???…"
Apparently Natalie confirmed the questionable news with a final sign off.
Many felt that Natalie brought in more fans for the show, especially with the drama between herself and Karen, but that is over now.
We will have to see how Mob Wives 6 plays out since Ang had throat surgery and Renee Graziano has quit for personal health reason.
What do you think?