Moneybagg Yo Mom Hospitalized with COVID-19 + Pneumonia!
Rapper Moneybagg Yo is going through it today. Earlier today (Saturday) Demario DeWayne White Jr., 29, confirmed that the rappers' mom has been infected with the Covid-19 virus, and in the hospital with pneumonia. Get more details about Moneybagg Yo Mom Hospitalized with COVID-19...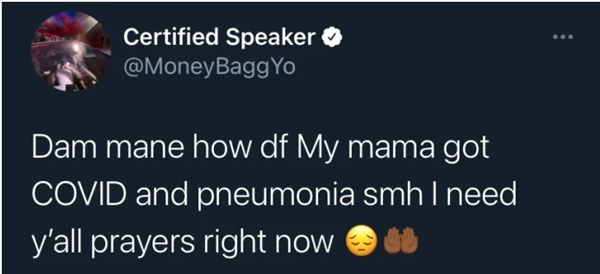 CelebnMusic247.com and CelebnHealth247.com report that rap star Moneybagg Yo is going through it today. MTO News has didn't provide details on his mother's current condition.
However, he did take to social media to tell his followers he needed their prayers for mama.
Moneybagg Yo wrote:
Dam mane how df My mama got COVID and pneumonia…smh I need y'all prayers right now.
This terrible news comes just as the 29-year-old artist released his fourth studio album, A Gangsta's Pain. The album was released a week ago, and as a result of his hit songs, Moneybagg now has a six-figure booking fee.
Just moments before he shared his mom's diagnosis, Moneybagg indicated he was dealing with a troubling situation.
The 29-year-old-rapper said:
Mannnn I hate when shit goin good sum bad come right behind it.
According to social media reports, CelebnMusic247.com has received, the rap star's mother is in serious condition. Having pneumonia during Covid is very serious, it's similar to how multiple wildfires spread through a forest.
As COVID-19 pneumonia slowly moves through the lungs, it leaves damaged lung tissue in its wake and contributes to the fever, low blood pressure, and organ damage common in COVID-19 patients, according to researchers.
Moneybagg Yo Mom Hospitalized proves that getting vaccinated is important because the risk of COVID-19 infection is still happening.
Our prayers go out to Moneybagg Yo for his mom. We just lost our mom on Christmas.