BREAKING NEWS: Beloved Actress Olympia Dukakis Dies at 89!
Olympia Dukakis, one of our favorite actresses has passed away. Dukakis, who won an Oscar for her supporting role in 1987 hit Moonstruck also starred in Away From Her, the three Look Who's Talking films and Mr. Holland's Opus, died today at her home in New York City. Olympia Dukakis Dies, continue on for details…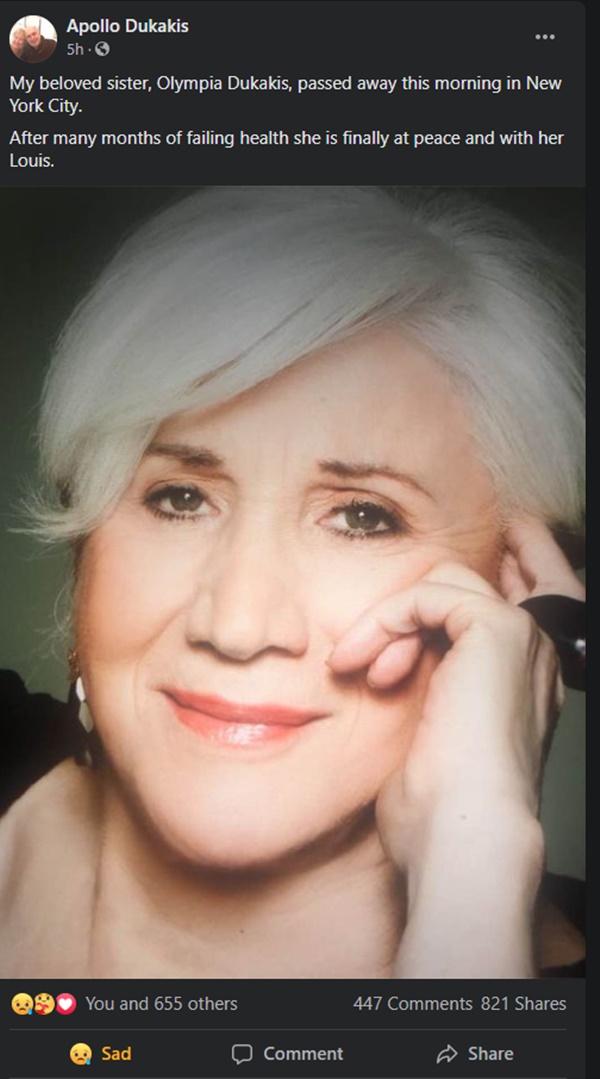 It has been reported that she had been in ill health for some time, CelebnMusic247.com and CelebnHealth247.com have learned.
Olympia Dukakis brother Apollo, confirmed her death on his Facebook page:
Apollo released a statement that reads:
My beloved sister, Olympia Dukakis, passed away this morning in New York City. After many months of failing health she is finally at peace and with her [husband] Louis [Zorich].
The cause of death has yet to be determined.
er other film credits include Steel Magnolias (1989) Look Who's Talking (1989), Over the Hill (1992), I Love Trouble (1994), Picture Perfect (1997).
Her television credits include the 1993 transgender drama Tales of the City and its 1998 sequel, which earned her an Emmy nomination. Dukakis also appeared in Netflix's 2019 revival, titled Armistead Maupin's Tales of the City.
Dukakis was a theater veteran who struck gold in the film business later in life. She was 56 when she played Cher's sardonic mother, Rose Castorini, in Norman Jewison's classic romantic comedy Moonstruck. Her portrayal of a woman overly involved her daughter's love life earned her an Academy Award, a Golden Globe, and a BAFTA nomination. – Deadline
No information was immediately available on memorial plans.
RIP Olympia Dukakis and thank you for so many great moments on screen. You are a Hollywood legend.
Our condolences to Apollo and Olympia's family and friends.