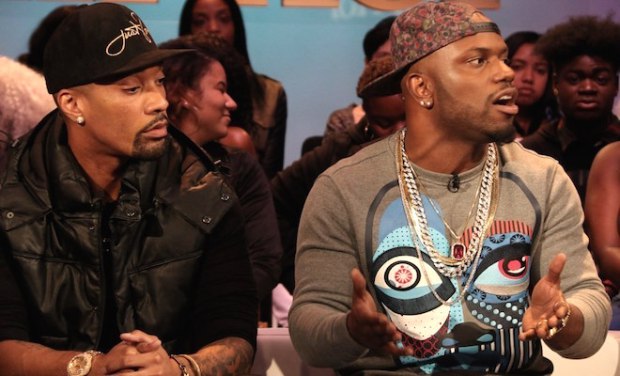 Mona Scott Young Called Out By Gay Writer???
Since Milan and Miles joined Love & Hip Hop Hollywood, many fans of the franchise tuned out and now Mona Scott Young Called Out By Gay Writer!
While the rating have been stronger and more LBGT community are watching LHHH2 than straight fans – Miles and Milan seems to be the talk of the season for some. However, CelebNMusic247.com has learned that one writer, who is gay, finds the first Love & Hip Hop gay couple to be a stereo type, more hurtful than helpful.
His name is Ernest Owens. He is a gay black man who works for the Huffington Post, but he feels that Miles and Milan's storyline just plays into the hurtful stereotypes that plague the gay community.
Ernest writes:
"Enter Milan and Miles. Milan is a known out-gay black musician who has performed around the country and at some of the hottest LGBT clubs around. Miles is a closeted black gay rapper who is dating Milan and trying to keep the relationship on the down-low while Milan is emotionally trying to convince him to come out. Meanwhile, Miles is also entertaining the possibility of mending his relationship with his ex-girlfriend while secretly remaining intimate with Milan.

Translation: When Mona Scott-Young finally decided to put black gay male characters on her show – they had to be DL and pose a threat to a black woman's security of love.

And for that, I can no longer support this show. Yes, I'm late to the party, but this opened up a wound that reminded me why shows like this are problematic beyond just that one hour of laughs.

When I watched this plot-line unfold, I would usually tweet about it with friends and the world. As a queer man of color who lives my truth unapologetic and unbothered, to see people bash men like myself of social media due to the visibility that this women has put on national television hurt.

Our community hardly sees any lived romance between black gay men or women for that matter and often their knowledge has been stigmatized by this delusional sense that such love is marred with sin and deception. Women on social media have bashed Milan, looking at him as the reason why there are "no good brothers left in the world."

Some have even resorted to using homophobic slurs to generalize the "sinful" and "disgusting" nature of what they are witnessing on television. And as their anger grow each week with these queer men of color — the conversation then carries into the workplace and social scene. When I was out drinking with a few colleagues, I had to be asked whether or not "I've been in a DL relationship" because that's what they hear — and shows like Love & Hip Hop: Hollywood is part of where they get it."
What do you think of Mona Scott Young being called out by a Gay Writer who works at HP?
Is this season of LHHH a disrespectful blow to the gay community?