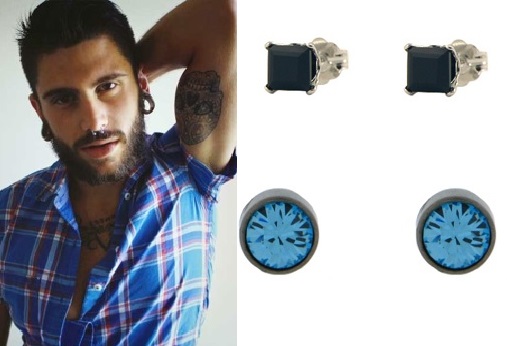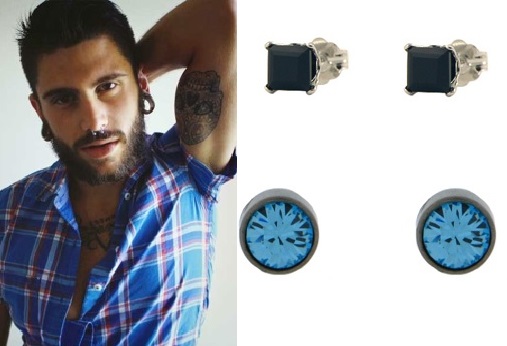 Mens Ear Candy
I have had a more eventful history with earrings than most men. My progressive uncle took me to get my left ear pierced back in 1996 on a family trip to the West Coast and that's when I knew earrings were like 
Mens ear candy to me. 
By the time I got to college I had pierced my right ear and put another hole in my left and was keeping it funky, but a couple years later I took them all out. I hadn't thought about it again until a couple of months ago, when I noticed that the jewelry designer Philip Crangi was wearing two earrings in his left ear and one in his right.  His story was similar to mine, albeit a bit more extreme: by the time he got tired of wearing his, in 1999, he had six holes in each ear. (Very '90s).
My uncle didn't put any earrings on again until he started seeing me and my friends rocking ours all over the place:
"I keep it pretty funky now, with some classic '80s Jody Watley hoops or a small stud…My favorite is the slotted screw head stud from my Giles & Brother collection."
After that I did some research and discovered that more and more youth-accessible stores are now carrying men's earrings. The old emo standbys, Hot Topic and Spencer's, have a few men's styles, but the real mother lode is the Topman store in SoHo.
The men's jewelry section offers probably 40 or 50 different varieties, from dangling daggers to an Eiffel Tower and a neon pink star. So guys, whatever style you choose and whichever ear you decided to pierce or re-pierce, the message is clear: men's earrings are back.
Check out music from my debut album "Sticky Wicked Playground " @ Glassthetramp,com
Remember what I say "If it makes you feel like a million dollars then file it under "P" for PERFECTION!" LOVE PEACE PASSION BABY – Glass the Tramp
Presented and written by Glass The Tramp
Love & Roses, Glass The Tramp 2014:
Stay connected to Glass The Tramp: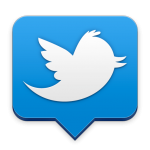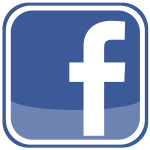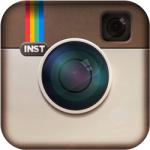 or check him out at GlassTheTramp.com
#CelebsAreCoolRight
Related articles