After Lizzo Summerfest performance which was tainted by a security guard assaulting her glam team, she took to Twitter on Thursday night to EXPOSE the festival for their wrongdoings.
Read on Lizzo 'out for blood' after Summerfest security allegedly assaults her stylists…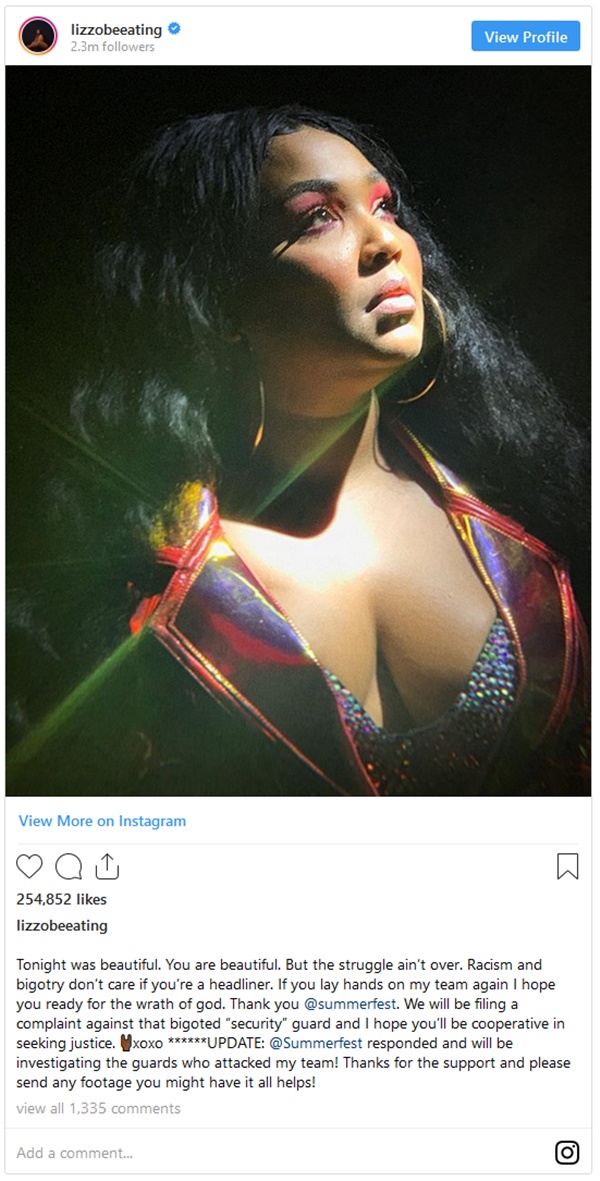 CelebNMusic247.com reports that Lizzo alleged on social media that a security guard assaulted her glam team and now she wants justice.
Lizzo said:
DID ANYBODY GET FOOTAGE OF THE SECURITY GUARD THAT TACKLED AND ATTACKED MY TEAM @SUMMERFEST ?! THEY SLAPPED AND MANHANDLED MY HAIR STYLIST AND STYLIST AND IM OUT FOR BLOOD.
Then the 31-year-old "Juice" singer posted this on Instagram:
Tonight was beautiful. You are beautiful. But the struggle ain't over. Racism and bigotry don't care if you're a headliner. If you lay hands on my team again I hope you ready for the wrath of god. Thank you @summerfest. We will be filing a complaint against that bigoted "security" guard and I hope you'll be cooperative in seeking justice. ??xoxo ******UPDATE: @Summerfest responded and will be investigating the guards who attacked my team! Thanks for the support and please send any footage you might have it all helps!
An hour later, she wrote:
F–K! That was the best show ever but I feel like I can't even celebrate cuz RACISM don't matter if you a headliner…. SMH @Summerfest please send footage.
Summerfest is Milwaukee's largest music festival and was the most recent stop for Lizzo's tour.
Summerfest responded to Lizzo's claims on Twitter, writing:
Lizzo gave an incredible performance which she now feels is tarnished by events which occurred during the performance. We do not tolerate racism in any form. We will conduct a thorough investigation.