Chicago rapper Lil Durk is reportedly being charged in connection with attempted murder in Georgia. Police believe the rapper is connected with a shooting of a man in the parking lot of the Varsity in Midtown Atlanta in February.
Now, Lil Durk drops a new song to address his legal situation. Continue on to see what Durk is saying in his new song…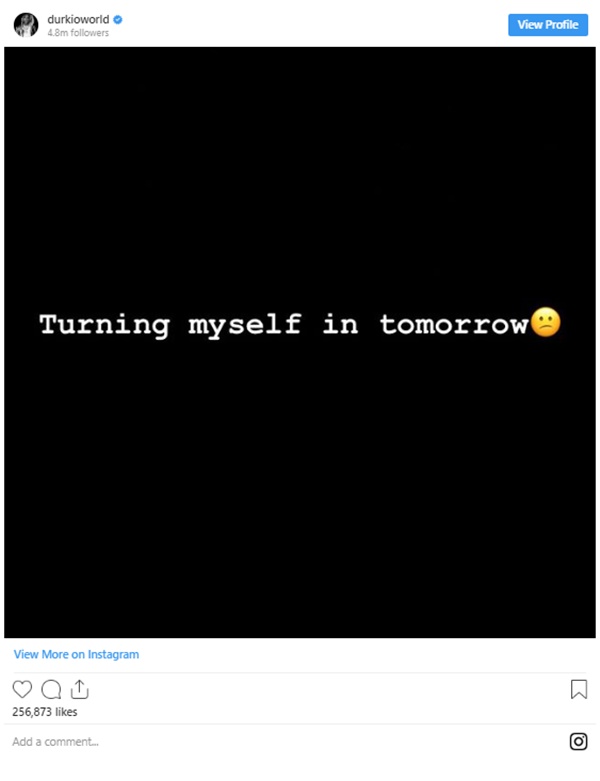 CelebNMusic247.com reports that Lil Durk turned himself into the authorities today in connection with charges springing from a recent incident in Atlanta.
Chicago rapper Lil Durk decided to send his fans a message before surrendering, Durk shares "Turn Myself In," a vital new single. In the single, the rapper laments his circumstance, apologizing to his loved ones and maintaining his innocence.
The song is a fitting and heart-wrenching confessional, released as the rapper enters the justice system on his own terms.
Last night he posted the message on Instagram (above).
Since the crime, police are picking up suspects. In fact, they picked up two Chicago men connected with Young Durk – King Von and Bayzoo. King Vonn, real name Dayvon Bennett was arrested in Atlanta on May 17th. He's been charged with attempted murder and is facing 20 years in prison if convicted.
Here's the paperwork:

Now, Lil Durk who turned himself in today is the next person to be charged. It is being said that he can be facing up to 20 years behind bars.
Durk is dropping new music on June 3rd featuring King Vonn who is facing 20 years in prison: