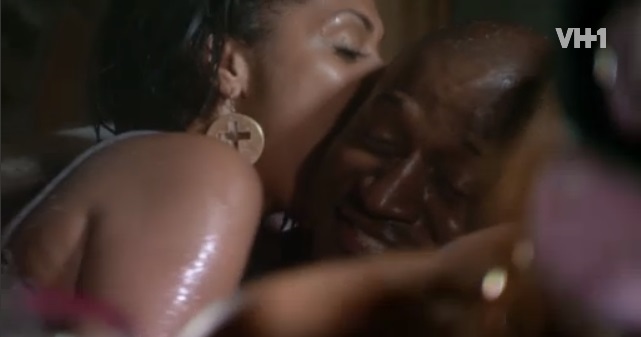 (CelebNMusic247-News) Kirk Frost Caught Cheating On Rasheeda
Last night Love and Hip Hop Atlanta had a shocking moment during the last part of the show when Kirk Frost headed up to Bobby V's home at the lake.
After Kirk and Benzino took their motor cycles out for a spin they headed to Bobby V's crib at the lake for some R&R, they thought. Instead, Kirk, Benzo and Bobby had a party filled with jump-offs ready to perform for the camera.
While the girls got their 15 minutes of fame, Kirk went from @ss of a husband to dirty bag dog. He was seen making out with two women in the jacuzzi, playing a strip drinking game with everyone and then the shocker.
While Benzo tried to get him to stop, Kirk said he was enjoying the single life and could get used to it, so he TURNT it up and took 2 women up stairs for a 3-way.
And here's the kicker. While Kirk is out having his dipstick waxed. Rasheed, his wife, is home pregnant!
Do you think it's right that Kirk took off after Rasheeda told him to do whatever?
Kirk took the argument to the next level thinking he had some sort of Hall Pass to cheat. Ladies do you think a man has the right to cheat everytime he and his wife get into an argument?
Mind you Kirk and Rasheeda have been married for 15 years and his past with his son seems to have scared him. There is something going on with Kirk. We think its a mid-life crisis.
What do you think?
Related articles