Kelly Ripa + Mark Consuelos Post 'Sizzle' Pic For Jake Shears' Birthday!
Can you say 'Thirst Bucket'? OMG, all we see is @ss and abs! Continue on to see Kelly Ripa Mark Consuelos…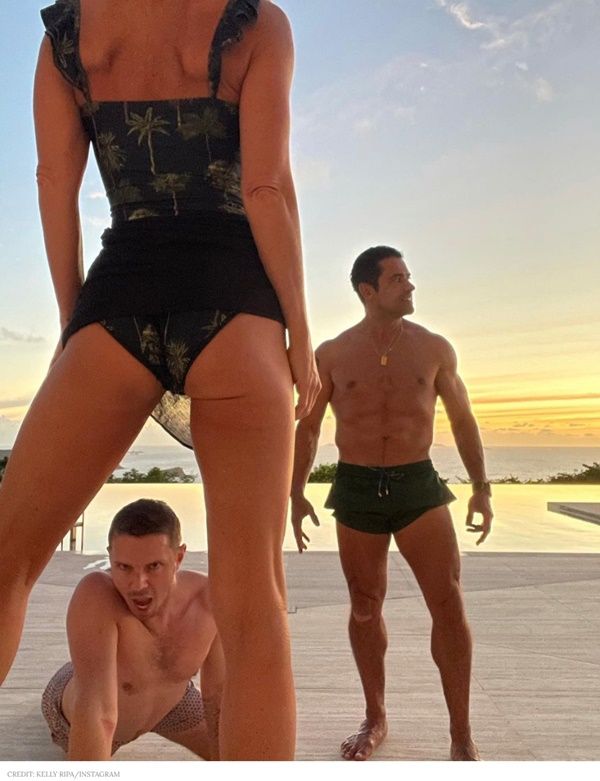 CelebnMusic247.com has one of the hottest photos from celebrity couple Kelly Ripa + Mark Consuelos.
Kelly Ripa and husband Mark are back with another cheeky Instagram shot — this time in honor of singer-songwriter Jake Shears' 43rd birthday.
On Sunday, the Live with Kelly and Ryan co-host, 51, posted a photo of herself, Consuelos, and Shears posing by a pool at sunset in bathing suits.
Talk about BODY-ODY-ODY!
Ripa is facing away from the camera while Shears makes a face through her legs and a shirtless Consuelos stands in the back.
Kelly wrote in the caption, which Shears re-posted on his Instagram Story:
Happy birthday @jakeshears, thank you for letting us be a part of your new album's cover art. Coming soon!
When E! News' Justin Sylvester asked in the comments, "What's the name of the 1st single?"
Ripa replied:
Thirst bucket.
Recently Lenny Kravitz posted a photo of his abtasticle self and won the praise of The Rock and Channing Tatum. But have you seen Mark Consuelos abs…OMG! #YUM #LOVE #Lookinggoodat50
This is what we are talking about – a healthy lifestyle, healthy eating, and staying in shape. Men don't all have to have beer guts at 50.
Who could forget the sexy pic of Mark, Kelly posted this year…