Kanye West Is On The Outside?!?
After the insulting Grammy stunt by Kim Kardashian's husband, members of Bey-Z Inner Sanctum Confirms Kanye West is on the Outside.
By now all of the US knows that Kanye West is Beyonce's number one fan of the BeyHive, but a member of Beyonce's inner sanctum reveals that Kanye West is on the Outside looking in.
It may come off like things are cool in front of the cameras, but every chance Ye gets he tries to prove his worth to Bey but the feeling is definitely NOT mutual.
Here is what CelebNMusic247.com has learned:
Beyonce's touring lead guitarist BiBi McGill spilled the tea in an angry rant on social media after Yeezy stormed the stage at the Grammys because Beck won Album of the Year over Beyonce.
Despite Kanye West's free concert on 5th Ave in New York furing the freezing cold weather earlier tonight, Beyonce's team is still infuriated with Kim Kardashian's mad man of a husband.
Here is what BiBi McGill had to say about West: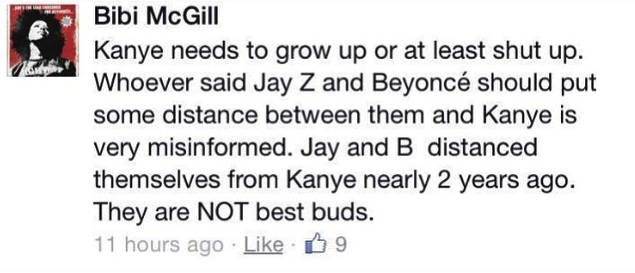 Fun Fact: Kanye West and Kim Kardashian began openly dating about two years ago.