After the news that the Love & Hip Hop NY couple posted an awesome video of Juelz Santana proposing to Kimbella on Instagram, he is receiving backlash. Read on…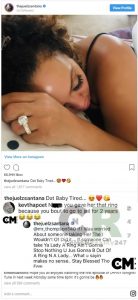 CelebNMusic247.com reports that after the news that Juelz Santana proposed to Kimbella one fan weighed in on the Dipset rapper and why he proposed after 9-long-years.
A fan name decided to BLAST Juelz saying:
N—a you gave her that ring because you about to got to jail for 2 years.
Another fan questioned the Dipset rapper for waiting 9 years to propose to Kimbella. The comment also sparked his reasons behind the proposal.
Mrs_telidayoung writes:
@wifey1017 he wasn't ready in 10 yrs??????? the woman who was down for u.. had yo kids. And u wasn't ready? I'm sorry it don't take a man so many yrs to see that a woman is the one. No, it don't. Y'all can save that excuse. Y are woman supposed to ALWAYS WAIT.
The comments came following the news from August after Juelz Santana plead guilty to possession of a firearm by a convicted felon and carrying a weapon on an aircraft.
His trial date is expected to start on December 12th. If he's convicted, he faces a max. sentence of 20 years behinds bars.
Of course, that didn't go well with Juelz Santana so he FIRED BACK to SHUT DOWN all the TROLLS!
Santana responded by saying:
If I was worried about someone taking her then I wouldn't of did it," he wrote. "If someone take ya lady, a ring ain't gonna stop nothing. U just gonna be out of a ring n a lady. What u saying makes no sense… Stay blessed tho fam.
No matter what it is, we say congratulations to Juelz and Kimbella and we hope things work out in court.
Thoughts?