(CelebNMusic247) Jim Jones Looking Suspect In Tight Pink Shirt?
I don't know what to think of this photo of Jim Jones striking a pose and serving face, back, chest and a mean "get your life"
Jim Jones was spotted serving face, back, chest and a mean "get your life" pose in a corner store that's probably close to the munching trade block.

Pink is NOT Capo's color and hopefully he went home and burned the shirt unless he was trying to grab some male attention.  The shirt is tighter that  Joan River's neck tuck.

I'm NOT trying to clown Jones, but the tight Pink shirt and grey underwear with his booty popping out like an apple ready to be juiced is like a gay boy heading to prison for a conjugal visit.

I love me some Jim Jones, but man, let me tell you, if I was wanting to hit, I'd jump all over that.  if I didn't know who Capo was, I would think he was looking to get his back blown out. Just saying bro. Kill the shirt.

Ya'll know when a guy sags like that in prison it means he's looking to get topped. That is where sagging originated, so ya might wanna know what it means when you are walking around showing your cakes.
Cake anyone?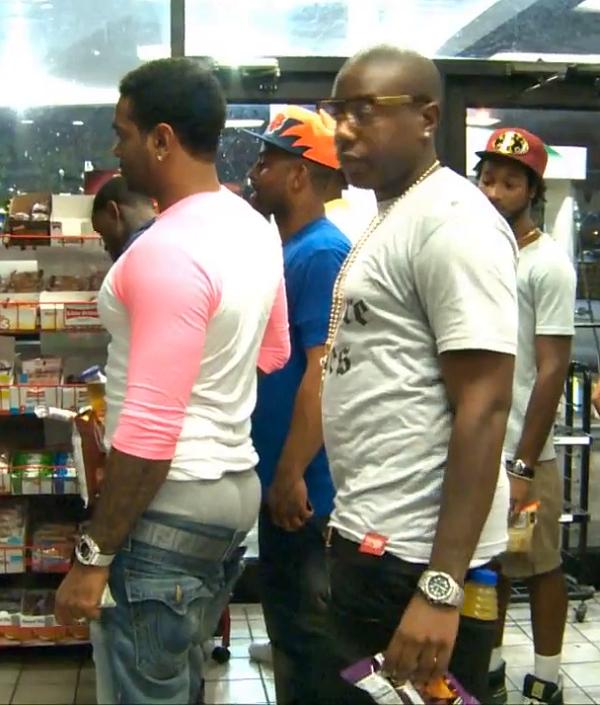 Jim please get rid of the pink shirt bro, its sending out mixed messages. Just having your back [no pun intended].
Related articles