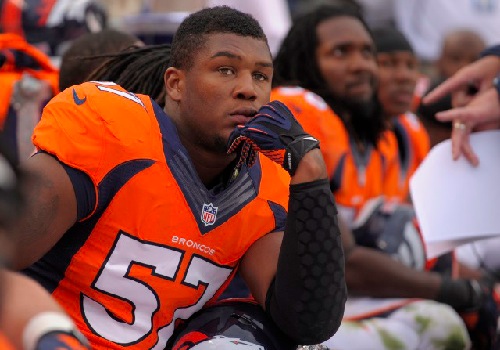 Former Denver Bronco Adrian Robinson Death Ruled As Suicide!!!
In the case of Former Denver Bronco Adrian Robinson Death Ruled As Suicide after the linebacker was pronounced dead at the age of 25.
On Saturday, Adrian Robinson, a former Denver Bronco linebacker, took his own life committing suicide by asphyxia (hanging). It is just terrible to hear someone so talented and so young taking their own life. He was only 25.
CelebNMusic247.com has this report [via IFWT/ Sporting News]:
You just never know what another person is going through or dealing with. After signing with the Steelers in 2012 as a free agent, he was traded to the Philadelphia Eagles a week later. When you are not an extremely elite player–and even when you are in some instances–the NFL can be somewhat of an unstable business. After Robinson was traded to the Eagles, he was waived just a week after.
[rpi]
After being waived by the Eagles, he was then picked up by the Denver Broncos in September of 2013 but was again waived in October. Although this happened to Robinson about 2 years ago, that definitely seems like a lot of stress to bear, especially when its your career on the line. Robinson eventually moved around to various more team including the Chargers and Redskins but it just seems that the NFL did not work out too well for him. Just last month, Robinson signed to a Canadian league and had plans to play in the up coming season.

I imagine that Robinson was battling some pretty heavy issues on top of the stress from truly establishing his career.  Unfortunately, though, there are currently no leads as to the exact reason Robinson decided to take his own life. He left behind family and a daughter that has not turned one year old yet.
We here at CelebNMusic247.com wants to send our condolences to Robinson's family and if you know someone or if you are having suicidal tendencies. Then, please reach out to – SuicidePreventionLifeline.org
What do you think?