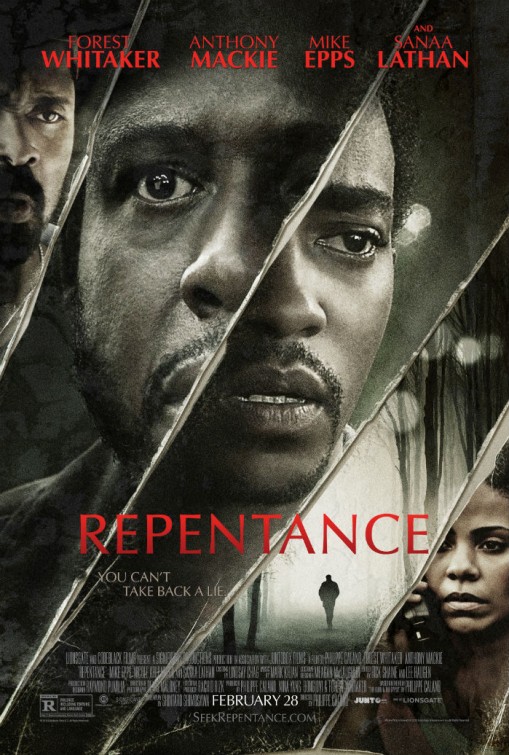 First Look at Repentance
It's rare to have an all star black cast in a horror/thriller like Repentance, but it's a nice change up for the movie industry.
Significant Productions gives CelebNMusic247.com the heads up on the upcoming horror film that stars  Sanaa Lathan, Mike Epps, Ariana Neal!
An earnest life-coach/author, Thomas Carter, is mysteriously abducted by a deranged client, Angel Sanchez, who delves into Thomas' teachings and uses his spiritual messages of Karma – action and reaction (Vipaka), against him to terrorize him and his family for their past sins.
Here is the synopsis from Lionsgate and Codeblack Films:
Years after a drunken car crash that almost took his life, Tommy Carter (Anthony Mackie) has reinvented himself as a therapist/spiritual advisor who advocates a synthesis of world religions and positivity. Hes parlayed this vocation into a successful book release that one day draws the attention of Angel Sanchez (Forest Whitaker), a profoundly troubled man fixated on the untimely death of his mother. When Carter takes on Sanchez as a personal client in an effort to raise funds for his indebted brother Ben (Mike Epps), things quickly take a turn for the worse. Angel needs much more than a simple life coach.

What may be simple to grasp for some is the idea that single actions in the past comprise tidal waves of reactions in the present. Director Philippe Caland's REPENTANCE examines these issues against a backdrop of kidnapping and murder.
Director: Philippe Caland
Stars: Sanaa Lathan, Mike Epps, Ariana Neal, Anthony Mackie, Forrest Whitiker, Nicole Ari-Parker
Repentance hits Theaters on February 28, 2014
Related articles