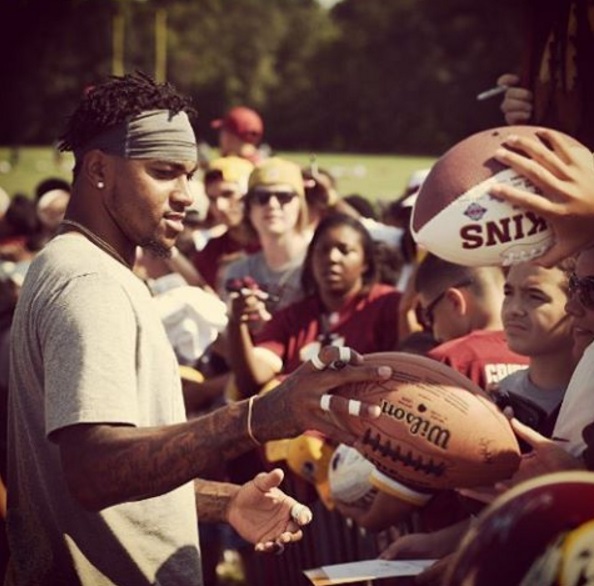 DeSean Jackson's L.A. Home Invaded; One Person Pistol-Whipped!!!
BREAKING: Los Angeles police confirmed that Redskins wide receiver and return specialist DeSean Jackson's L.A. Home Invaded and robbed leaving one person Pistol-Whipped!
Jackson was not at his Tarzana, Calif. home at the time of the incident, but there were five adults in the house when four armed males broke in early in the morning of Oct. 21, detective Tracey Angeles of the LAPD's West Valley Division
Despite DeSean's publicist Denise White who states:
"DeSean is getting ready to be a father for the first time. He's currently in Virginia practicing with the team."

"He had no knowledge of the incident until a phone call last evening. It's a legal matter. We're waiting for police to let us know more about the incident."
CelebNMusic247.com has this report on DeSean Jackson's L.A. Home Invasion via TMZ:
Washington Redskins wide receiver and return specialist DeSean Jackson's L.A. home was the scene of a violent home invasion incident this week — and at least one person inside got pistol-whipped.

It all went down Wednesday morning at Jackson's home in Tarzana, CA — with law enforcement sources telling us 4 to 5 people stormed the home with guns.

We're told the Washington Redskins star was NOT home at the time — but there were roughly 6 people inside who FOUGHT the intruders.
[rpi]
Law enforcement sources tell us at least one person in the home was pistol-whipped and suffered minor injuries.
Eventually, the people inside the home fought off the intruders who fled from the scene.

Cops arrived a short time later and took a report.

We're told investigators believe the intruders had been in the home before. Sources connected to the incident tell us the intruders appeared to know exactly where the security cameras were placed.

Our law enforcement sources tell us cops have leads on some of the suspects — and believe the incident was gang related.

One source connected to the situation tells us DeSean was not the target — it was someone staying inside the home.

As for Jackson, he has DENIED being part of a gang in the past — but says some of his friends are in gangs.
What do you think of Jackson LA home being violently invaded?