Cardi B Reportedly Encouraging Met Gala Partygoers to Do A Bump!
Hey, if you want to bump the night away, that is your choice, but telling a bunch of partygoers in this day and age to do that can make you a headline. Wait, it did just make Cardi B a headline. Girl we love you and we would be there right with you on the party train, but peeps is talking that its NOT a good look…
#CelebnMusic247 got the #Tea via @VideoMixtape_ that #CardiB was seen encouraging #PPL to drink, party and do a bump. Cardi says she hates how the media puts her on blast for everything. She is sick of it. #news #music #MetGala2022 #party #checkitout https://t.co/g9CHhK5Fqv

— Celeb N Music 247 (@CNM24_7) May 4, 2022
CelebnMusic247.com reports that Cardi B was not only in attendance at one of the Met Gala's after parties – she was the host at the Playboy party.
Shortly after Cardi took the stage someone caught her on video red-handed saying lets have some drinks and do a line.
There is NO DENYING that!
And she can be seen on video publicly encouraging her rich and famous partygoers at the Standard Hotel in New York City, to do the potentially harmful substance.
Meanwhile, her nemesis Tasha K was all over this like a fly to shhh! You know she had something to say since the lawsuit fell in favor of the "WAP" rapper. And let's not forget Tasha is NOT paying her a dime!
And yes, Tasha K made sure to weigh in on Cardi B: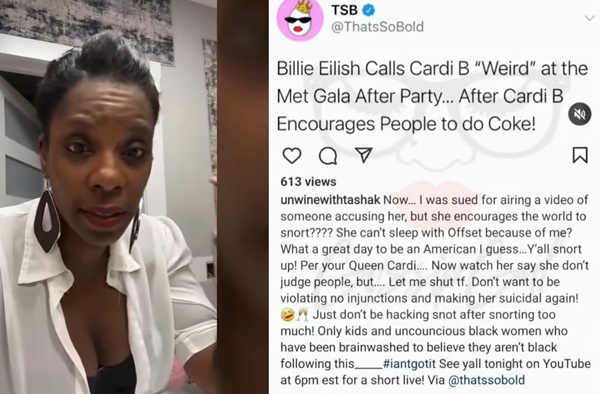 Despite the negative headlines Cardi looks amazing in vintage Versace:
View this post on Instagram
View this post on Instagram