This is NOT good! Cardi B has been indicted by a grand jury on multiple charges related to a New York strip club incident.
Cardi B is now facing 14 years in prison if she is convicted. Read on Cardi B Indicted…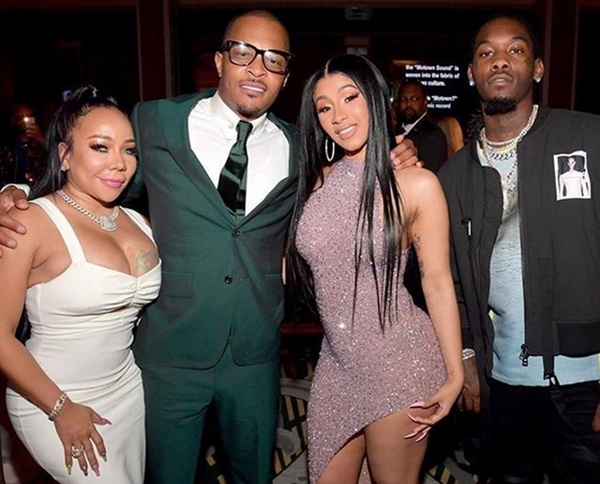 CelebNMusic247.com reports that the "Press" rapper is facing 14 charges include misdemeanor reckless endangerment, criminal solicitation, conspiracy, harassment, and assault.
Cardi B is also facing two counts of felony attempted assault with intent to cause serious physical injury.
TMZ broke the story today.
Cardi B previously rejected a plea deal in connection with the incident, which—as claimed in previous reports—revolves around two women who claim to have sustained injuries during a fight they allege began because of a request from Cardi.
Last night it was a double date with double the trophies!
T.I., 38, and his wife Tameka "Tiny" Harris, 43, ran into none other than Cardi B, 26, and her husband Offset, 27, at the ASCAP Rhythm & Soul Awards in the Beverly Wilshire Hotel in Los Angeles on June 20.
T.I. took home ASCAP's first-ever Voice of the Culture Award, which honored both Tip's music contributions and his "active role in philanthropic and community transformation efforts through his non-profit, Harris Community Works (HCW)," according to ASCAP's press release.
Tip shouted out to Cardi and Offset on social media saying:
Congratulations to da homies @iamcardib & @offsetyrn On all their awards last night!!! #TheRichWivesClub
Thursday night, Cardi was honored with the Songwriter of the Year award at ASCAP's Rhythm & Soul Music Awards in Beverly Hills.
Cardi said when accepting the award, per Billboard's rundown:
[With] everybody saying I'm not this or that, sometimes I gotta see it and feel it for myself because it's hard.  Everybody always wants to say I made it because of this or made it because of that. I made it because I worked my ass off.