Blasphemy: Lil Nas X Promotes Satan in New Video to Sell Shoes!
Once again the music industry is hard at work infecting young minds by using a popular artist to promote Satan with his music.
Apparently the gay is bad PR for Satan– ?
But maybe I read that wrong. pic.twitter.com/8SOUqxa6VK

— Space n Stuff (@Spacenstuff2) March 27, 2021
CelebnMusic247.com is appalled at Lil Nas X who believes this is creative and artsy when in reality this is just another way to get young minds not to believe in God.
We are not going to preach about heaven and hell, but Satan is NOT funny, Satan is NOT a good thing and young minds need to be stronger than music.
Music is a great outlet, but don't let someone like Lil Nas X make you believe that having sex with Satan is a good thing.
This is a disgusting act of blasphemy. It is trying to dismantle religion and infect young minds who just want to be cool and will follow whatever is out there to fit in.
Believing in God is great, don't let Lil Nas X's journey to hell entice you to follow. Only week minds we do that. Be a leader, not a follower.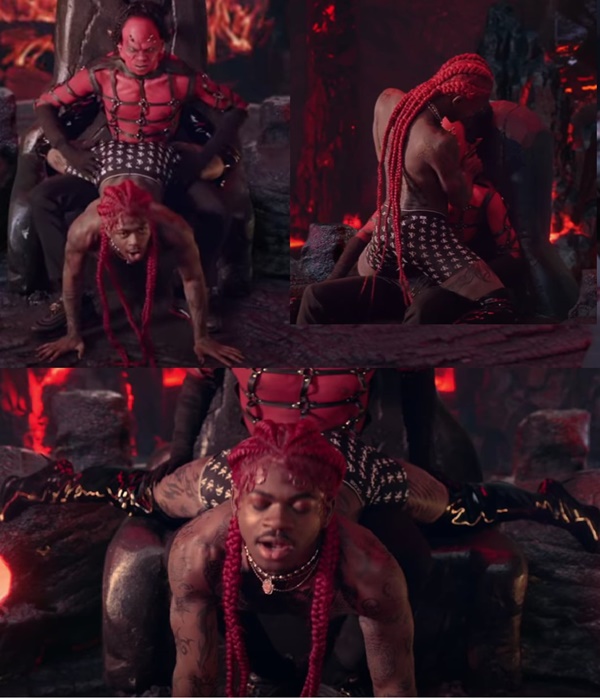 The worst part of all this is they are selling shoes as well, calling them 'Satan Shoes'.
Not to mention they are promoting the shoes saying that "each shoe will contain drop of human blood."
YUCK! NO THANK YOU!
MSCHF x Lil Nas X "Satan Shoes" ?

?Nike Air Max '97
?Contains 60cc ink and 1 drop of human blood
??666 Pairs, individually numbered
?$1,018
??March 29th, 2021 pic.twitter.com/XUMA9TKGSX

— SAINT (@saint) March 26, 2021
This is taken from Bible scripture Luke 10:18 is also emblazoned on the side. The passage references Satan's banishment from heaven. There are also upside-down crosses and a pentagram attached to the shoelaces, as well as printed on its sole.

Yes, the classic Air Max '97's have been revamped by collaborators MSCHF with the underworld in mind, coming in a limited edition stock of 666 pairs, each individually numbered "x/666" in red embroidery. The kicks will also contain 66 CCs of red ink, as well as one drop of human blood.

Back in 2019, MSCHF also designed a comparable "Jesus Shoe" — featuring the son of God upon a crucifix. – Page Six
Using religion, to sell shoes…#SMH  – The bottom line this is Blasphemy. We get it Lil Nas X likes men, but why does it have to be Satan.
BOOOO!